Wednesday, March 14, 2012

Most expensive watch: Hublot sets world record (Photos)

BASEL, Switzerland--At the world's biggest watch show, Baselworld Watch and Jewellery Show in Basel, Swiss watchmaker Hublot unveiled a watch which was inlaid with more than 1,200 diamonds (including six stones that weighed more than 3 carats each) and carried a price tag of $5 million - setting the new world record for the Most expensive wrist watch; it has been sold to The Hour Glass Singapore, according to World Record Academy: www.worldrecordacademy.com/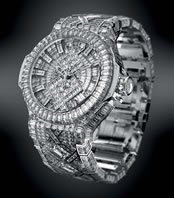 Photo: The world's Most Expensive watch.
(enlarge photo)

The Guinness world record for the most expensive watch commercially available is the Super Ice Cube by Chopard, Switzerland which retails at $1,130,620 (€905,365) (£616,881). The watch has 66.16 carats of diamonds which includes 288 trapeze cut diamonds, 16 centre stones and 1,897 brilliant cut diamonds.

Guinness World Records also recognized the world record for the largest watch store, set by the Tourneau Time Dome, situated within The Forum Shops at Caesars, Las Vegas, Nevada, USA. The store covers an area of 1579.36 m² (17,000 ft²).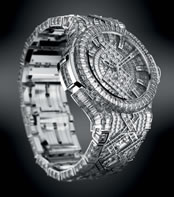 (enlarge photo)

It was a lengthy process to complete: 14 months of work for all the different disciplines combined, including 7 months' work for 12 cutters, and the same for the 5 setters, with all the major specialists working on the piece full-time.

A total of 1282 diamonds, more than 100 carats of baguette diamonds, a dazzling expression of the work of the best craftsmen in their field.

This is the most precious watch ever created by Hublot and its long-standing partner, Atelier Bunter in Geneva. The diamonds selected by Hublot are all of the highest quality, graded A VVS in clarity and Top Wesselton in colour.

The World's Most Expensive Watch will be showcased first in the Hublot boutique in Marina Bay Sands, and then in the Hublot corners at The Hour Glass boutiques.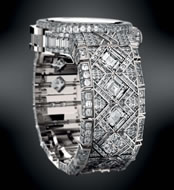 (enlarge photo)

Jean-Claude Biver, president of the watch company which is owned by French luxury giant LVMH, said it would be hard to make a more expensive watch "because the surface of the watch is limited."

TECHNICAL DETAILS
Unique piece:
- A total of 1282 diamonds
- More than 100 carats of baguette diamonds
- 6 square emerald cut stones, each weighing more than 3 carats
306.WX.0099.WX.9904
Case: 44 mm in diameter - 18K white gold set with 302 baguette diamonds, totalling 27 carats
Crystal: Sapphire with interior and exterior anti-reflective coating, plus metallised Hublot logo
Case-back: Enclosed, made from 18K white gold with engraved Hublot seal
Crown: 18K white gold set with 12 baguette diamonds totalling 0.67 carats, and a rose-cut diamond of 1.06 carats
Dial: 18K white gold, 150 Palladium, set with 179 baguette diamonds totalling 8.75 carats
Hands: Faceted and diamond-polished rhodium-plated skeleton hands
Movement: HUB 1100 Self-winding mechanical movement - Frequency: 28,800 Vib/h (4 Hz)
Diameter: 11 1/2 ''' (Ø 25.60 mm)
Thickness: 3.60 mm
Components: 63 (Jewels: 25)
Power reserve: Approximately 42 hours
Bracelet: 18 K white gold set with 782 baguette diamonds, totalling 45 carats
6 square emerald cut diamonds, each over 3 carats, totalling more than 18 carats Clasp 18K white gold deployant buckle.

It took 17 people 14 months to set the more than 140 carats of diamonds on the watch's white gold bracelet, said Biver at the world's biggest watch show in Basel.

Related world records:
Largest Silver Clock: Sukra Jevellery

Most expensives Rolex watches: Atiquorum
Largest Collection of Clocks: Bill Williams

Most expensive purse: Hermes Birkin Bag sets world record

Most expensive Christmas tree: Tokyo jeweler Ginza Tanaka sets world record (Video)

Most expensive razor: Zafirro Iridium

Most expensive musical instrument sold: Stradivarius violin (Video)

Most Expensive Handbag: The Mouawad 1001 Nights Diamond Purse

Most Expensive Apartment Building: One Hyde Park

Most expensive cheese sandwich: Chef Martin Blunos

Most Expensive Rough Diamond: The Cullinan Heritage

Most expensive medicine: Soliris

Most expensive mobile phone: Apple iPhone 3G Supreme

Most Expensive Written Manuscript: Giacamo Casanova's autobiography

Most Expensive Diamond: 'Vivid Pink'

Most expensive barbecue: BeefEater

Highest price paid for a Victoria Cross-Spink

Most expensive Christmas tree: Ginza Tanaka

Most expensive cow: Missy

Most expensive bottle of beer: Lowebrau

Most Expensive Stamp: The Treskilling Yellow

Most expensive Christmas bauble: Hallmark Jewellers

Most expensive apartment: Hong Kong flat

Most expensive sheep: Deveronvale Perfection

Most expensive car ever sold at auction: 1957 Ferrari 250 Testa Rossa

Longest line of coins: THINK Together

Most expensive diamond: The Wittelsbach Diamond

Most expensive car: Ferrari 250 GTO

Most Expensive Watermelon: Densuke watermelon

Most expensive house: La Leopolda

Most expensive Buick Roadmaster: Hot Web Inc.

Most expensive Dickens book: Oliver Twist

Most Expensive Champagne: Perrier-Jouet

Most expensive cell phone: GoldVish phone
Most expensive 35 millimeter camera: Leica
Most expensive Koran-world record set by oldest copy

Wednesday, March 14, 2012 3:22 PM