Most expensive car-world record set by Ferrari 250 GTO

LONDON, UK -- The legendary Ferrari 250 GTO was auctioned for €20 million (22 Mil $)-setting the world record for the Most expensive car.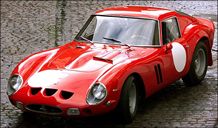 Photo: Only 39 models of the legendary Ferrari 250 GTO model were ever built, from 1962 to 1964.
(enlarge photo)

Powered by a three-litre V12 engine, the 302-horsepower Ferrari 250 GTO can reach speeds of 283km per hour.

It was already considered one of the most valuable cars in the world, previously thought to have been worth approximately €14 million.

But with the recent record-breaking sale, it seems the Ferrari 250 GTO is even more valuable than had been thought.

The previous holder was a 1961 Ferrari California Spyder which sold for about €7 million in May.

Saturday, September 20, 2008