Wednesday, September 21, 2011

Fastest time bicycling across Canada: Kevin Robins sets world record (Video)

St. Johns, Newfoundland, Canada -- Taking only 22.75 days to get from Vancouver to St. John's, Fort McMurray resident Kevin Robins covered approximately 7,200 kilometers, at an average pace of about 300km per day - setting the new world record for the Fastest time bicycling across Canada, according to World Record Academy (www.worldrecordacademy.com), while raising money for victims of Alberta wildfires.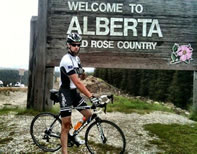 Photo:Kevin Robins' 7,200 kilometre journey ended with a new world record for the fastest time bicycling across Canada, beating the old record by a day and a half. (enlarge photo)

The previous world record was 24 days, set by Cornel Dobrin.

The Guinness world record for the fastest cycle across Canada by a relay team of five is 8 days 8 hr 14 min, and was achieved by the Team H2V (Canada) cycling from Halifax (Nova Scotia) to Vancouver (British Columbia).

Guinness World Records also recognized the world record for the first Ocean Four to row the Atlantic West to East from Canada: the crew of Naturally Best, George Rock, Robert Munslow, Nigel Morris, Steve Dawson (all UK) who achieved this in the fastest time recorded for that route: 39 days 22 hr 10 min 30 sec.

"I've been doing trips like this for awhile, it's just that this time I have a cause."

The Port Perry, native lives in Ft. McMurray, Alberta. The wildfires that destroyed much of northern Alberta earlier this year came within a few kilometres to where he works.

A friend of his, knowing that he enjoys cycling for distance, suggested he ride as a fundraiser for the victims of the fires. To make it interesting, he said, he decided to go for a record time.

Robins has raised just under $7,000 for the Canadian Red Cross Society.
He said people in the Maritimes weren't aware of the severity of the wildfires in Alberta, but nearing the end of the journey the money was rolling in.

"There was a few people out here on the east coast who didn't even know about the fires, so some people definitely found out just by talking to us," he said.
"Once people realized we were actually going to pull this off, the donations starting coming in."

His average speed per day depends on the terrain and wind, but was often between 25-35 k/hr.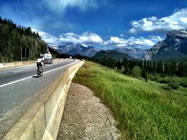 Photo: Taking only 22.75 days to get from Vancouver to St. John's, Fort McMurray resident Kevin Robins captured the world record for fastest cycling journey across Canada. The ride, which raises money for victims of Alberta wildfires, has pulled in about $7000 in donations — about $1 per kilometre. (enlarge photo)

What makes Robins' record more impressive is that his van was involved in an accident outside of Sudbury. Robins' had to significantly increase his pace to make up for the lost time.

The ride is having an effect on his body.
"I can't stop eating," he said. "I get sunburns and I get very tired at the end of a day, but it's all for a good cause and it's something I like doing."

For more information on Robins world record ride, or to help in the fundraising for Alberta wildfires, visit www.worldrecordrideforalbertafires.com

Kevin was supported by The Canadian Red Cross and Liebherr Canada.

Related world records:
Bicycling across Canada: Cornel Dobrin

First person to visit all UN member countries and Antarctica: Yili Liu

First person to visit all Independent States: Kashi Samaddar set world record (Video)

Longest Journey by Motorcycle in a Single Country: Canadian Brothers (Video)

Fastest Crossing of the Sahara Desert by Bicycle: Reza Pakravan (Video)

First person to visit solo all 194 UN member countries: Yili Liu

Fastest Time to visit 245 countries: Benny Prasad

Greatest distance on a scooter in 24 hours: Jason Chalmers and Tamlyn Locke

Fastest circumnavigation by bicycle: Vin Cox

First to cycle the length of the Americas: Mark Beaumont

Fastest cyclist to cross Southern Australia: Guido Kunze

Fastest to cycle the Pan-American Highway: Scott Napier

Fastest cyclist to circle the globe: James Bowthorpe

Wednesday, September 21, 2011