Thursday, April 7, 2011

Longest Journey by Motorcycle in a Single Country: Canadian Brothers set world record (Video)

SHANGHAI, China -- Canadian brothers Colin and Ryan Pyle completed their epic motorcycle journey by returning back to Shanghai after 65 days on the road circumnavigating China on their BMW F800GS motorcycles - setting the new world record for the Longest Journey by Motorcycle in a Single Country.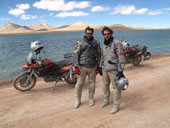 (enlarge photo)

Guinness World Records also recognized the world record for the The longest continuous journey by motorcycle within a single country, set by Ryan and Colin Pyle, who toured China along 16,240 km (10,091.05 miles).

The Guinness world record for the Longest motorcycle ride (team) was set by Simon and Monika Newbound (UK), who had covered over 168,800 km (104,887 miles) on separate motorcycles on a journey that started at Dublin, Ireland and crossed over 50 countries.

Their journey was a unique one, as they have become the first riders to fully circumnavigate China by motorcycle in one single journey.

During their remarkable 17,674km odyssey the brothers have encountered some of the most intense changes in culture, weather, altitude and terrain that exist in the world.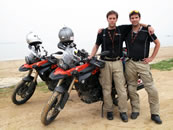 (enlarge photo)

They tackled heavy rains, flooding, landslides, freak hailstorms, extreme altitude (above 5000m/16,000ft), sand, gravel, thousands of kilometers of road construction and even bureaucratic / military interference.

According to Guinness World Records, the brothers
"started their trip in Shanghai and rode a circular route around the country and returned back to their starting point. The longest rest period taken was a four-day stop at Lhasa in order to have a motorcycle repaired."

Colin and Ryan intend to produce both a documentary film and a written book on their experiences in China, which have been far from regular.

Colin and Ryan Pyle are brothers from Toronto, Canada. But that's about all they have in common. Ryan has spent the last decade in China building his career as a Documentary Photographer. Colin stayed closer to home, in Toronto, and built up, and sold, his own successful currency trading company.

The world record was sponsored by: Mandarin House Language School, BMW China, Touratech, The Tomson Group, Airhawk, Pelican Products, Kodak, Oakley, Cardo Systems, and Lowe Pro.

Related world records:
Fastest Crossing of the Sahara Desert by Bicycle: Reza Pakravan (Video)

First person to visit solo all 194 UN member countries: Yili Liu

Fastest Time to visit 245 countries: Benny Prasad

Greatest distance on a scooter in 24 hours: Jason Chalmers and Tamlyn Locke

Longest distance travelled on a single tank of fuel: Volkswagen Passat

Fastest circumnavigation by bicycle: Vin Cox

Longest rickshaw ride: Tim Moss

Fastest journey to the South Pole: Todd Carmichael

Greatest Distance on Motorcycle in 24 Hours: Omar Al Mamari

Most countries visited: Kashi Samaddar

Longest Distance Skated on the Road: Abhishek Navale

First Woman to Scale 14 Highest Peaks: Oh Eun-Sun

First to cycle the length of the Americas: Mark Beaumont

Fastest cyclist to cross Southern Australia: Guido Kunze

Fastest to cycle the Pan-American Highway: Scott Napier

Longest journey on mini-bikes: Ryan Galbraith and Chris Stinson

Longest tea run: Rebecca Wass

Fastest cyclist to circle the globe: James Bowthorpe

Longest rickshaw ride: Simon Etkind and Lianna Hulbert

Longest unsupported Arctic journey: Emirates NBD Greenland Quest

Bicycling across Canada: Cornel Dobrin

Longest distance travelled by train in 24 hours: Corey Pedersen and Mike Kim

Longest wheelbarrow journey: David Baird

Fastest team travel to the South Pole: team impossible2Possible

Longest Journey by Skateboard: Rob Thomson

Longest journey around the world: Rosie Swale Pope

Travel world record: Oliver Kern

Longest Journey on Skates: Khoo Swee Chiow

Longest Journey on Skates: Swee Chiow

Longest distance pushing a car: Ashrita Furman

Longest wheelbarrow journey: David Baird

Lowest fuel consumption across the US: John and Helen Taylor
Thursday, April 7, 2011