Monday, October 11, 2010

Greatest distance on a scooter in 24 hours-Jason Chalmers and Tamlyn Locke sets world record

JOHANNESBURG, South Africa--Siblings, Jason Chalmers, 36, and Tamlyn Locke, 26, each rode a scooter, a PGO X-Hot 125cc from Johannesburg, South Africa to Majtiesfontein in the Western Cape totalling a distance of 1176.9 km's (735.5 miles) in 24 hours - setting the new world record for the Greatest distance on a scooter in 24 hours.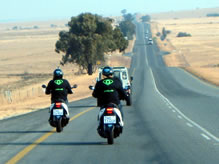 Photo: On route to Bloemfontein, the first main city stop. Photographer: Brigid Chalmers (enlarge photo)

The siblings initially intended to ride a very ambitious 1400 km's from Johannesburg to Cape Town within the 24 hours, however slow speeds and a few unplanned stops reduced their total distance.

They departed at 12h00 on the 18th of September from Montecasino in Fourways, Johannesburg, and headed straight onto the national highway, the N1 leading to Cape Town.

Upon departure the weather was fair and mild, with temperatures around 23°C.
As the scooters can only cruise at approximately 75 km/h on a flat straight, a vehicle travelled behind them cautioning the other highway traffic.
A second vehicle travelled in front of them for purposes of filming the event.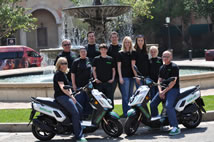 Team photo: Riders and support team taken before departure. Primary Support Team Members: Brigid Chalmers; Andre Locke; Henry Chalmers; Linda Chalmers; Jan Potgieter Montecasino, Fourways, South Africa. Photo: Gary Kruger (enlarge photo)

The first stop was after 129 km's, just after the second tollgate, which took just under 2 hours. The stops were on average every 1½ to 2 hours with varying distances, mainly to refuel and to allow the scooters to cool down for a few minutes.
As scooters are made for city commuting, the fuel range is fairly low and they tend to run very hot after an hour of riding.

They experienced a few technical problems on route and had to change the drive belts on both scooters.
The one scooter also experienced a significant loss of power and the last 200 km's took just over 4 hours to complete. Also adding to time delays were 6 sections of the highway only open to one-way traffic due to road works.

Each section ranged between 4 and 10 km's with an average waiting time of between 5 and 10 minutes.

The scooters were both fitted with a satellite tracking device to record the actual distance covered during the specified time frame, as well as all of the stops.

On the Net: http://www.adatude.co.za/

The report was verified by the manufacturer, Tracetec. In addition, signatures were obtained at various points along the journey to verify the riders information as well as the time and odometer readings.

Jason and Tamlyn wish to thank their official sponsors: Montecasino; Southern Sun Waterfront Cape Town; Tracetec; Adatude and Slipdisk Productions.

A very special thank you to their support team, comprised of their spouses and parents, without whom it would not have been possible.

The Guinness World Record for the Longest Journey on an Electric Mobility Vehicle (scooter) was set by John Duckworth (UK) who travelled 2,662.8 km (1654.6 miles) around mainland UK on a Horizon Mayan electric mobility scooter, finishing in Hincaster, Cumbria, UK.

Guinness World records also lists the longest snowmobile journey, which totalled 19,574.45 km (12,163 m) driven by Robert G. Davis (USA) on his Yamaha RS Venture snowmobile, during a 60 day period.

Subscribe to our free RSS News feed to receive updates.
Related world records:
Longest distance travelled on a single tank of fuel - Volkswagen Passat sets world record

Fastest circumnavigation by bicycle - Vin Cox

Longest rickshaw ride - Tim Moss

Fastest journey to the South Pole - Todd Carmichael

Greatest Distance on Motorcycle in 24 Hours - Omar Al Mamari

Most countries visited - Kashi Samaddar

Longest Distance Skated on the Road - Abhishek Navale

First Woman to Scale 14 Highest Peaks - Oh Eun-Sun

First to cycle the length of the Americas - Mark Beaumont

Fastest cyclist to cross Southern Australia- Guido Kunze

Fastest to cycle the Pan-American Highway - Scott Napier

Longest journey on mini-bikes - Ryan Galbraith and Chris Stinson

Longest tea run - world record set by Rebecca Wass

Fastest cyclist to circle the globe-world record set by James Bowthorpe

Longest rickshaw ride-world record set by Simon Etkind and Lianna Hulbert

Longest unsupported Arctic journey-Emirates NBD Greenland Quest sets world record

Bicycling across Canada - Cornel Dobrin

Longest distance travelled by train in 24 hours-world record set by Corey Pedersen and Mike Kim

Longest wheelbarrow journey-world record set by David Baird

Fastest team travel to the South Pole-team impossible2Possible sets world record

Longest Journey by Skateboard-world record set by Rob Thomson

Longest journey around the world-world record set by Rosie Swale Pope

Travel world record set by Oliver Kern

Longest Journey on Skates-world record set by Khoo Swee Chiow

Longest Journey on Skates-world record set by Swee Chiow

Longest distance pushing a car-world record set by Ashrita Furman

Longest wheelbarrow journey-world record set by David Baird

Lowest fuel consumption across the US-world record set by John and Helen Taylor

Monday, October 11, 2010