Friday, February 22, 2013

Largest panoramic photo: London photo breaks Guinness world record (PICS & VIDEO)

LONDON, UK -- The 360-degree photo captured from the top of the iconic BT Tower in London, viewable online and shot over a period of three days by Jeffrey Martin, Holger Schulze and Tom Mills, who work for a firm specializing in panoramic photography called 360Cities, weighs in at a staggering 320 gigapixels and 48,640 individual frames, sets the new world record for the Largest panoramic digital photo, according to the World Record Academy: www.worldrecordacademy.com/.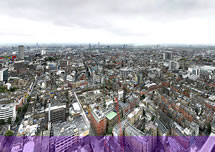 Photo: A 320-gigapixel image of London taken from the top of the BT Tower has set a new record for the world's largest panoramic digital photo. The picture, which is made up of 48,640 individual images, shows a full 360 degree view of London in incredible detail. Photo: BT/WRA (enlarge photo)

The Guinness world record for the largest panoramic digital photo has a total area of 3,958.5 sq m (42,608.9 sq ft or 15.33 gigapixels).

Guinness World Records also recognized the world record for most people tagged in an online photo: 7,053, achieved by Orange for the 'Glastotag' website which featured a photograph taken of the crowd at Glastonbury's Pyramid Stage.

The pictures were shot using Canon EOS 7D cameras, with EF 400mm f/2.8 IS II USM lenses and Extender EF 2x III teleconverters operated by Rodeon VR Head ST robotic panorama heads from a firm called Clauss in Germany.

The raw images were then processed over a multi-week period using Fujitsu Technology Solutions' Celsius R920 workstation with 256GB of RAM and 16 cores at 3.1GHz, and Autopano Giga panorama stitching software from Kolor.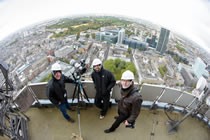 (enlarge photo)

The project was commissioned and financed by the BT Group, and completed by 360Cities.

Suzi Williams, director, BT Group Marketing & Brand, said, "This isn't just a world record for the BT Tower, it's for London and the people who live, work in or visit the capital. Take a look, and share your favourite London places and landmarks."

Steve Hercher, director, 360Cities, said,
"Software and hardware were pushed to the limits, and rain, wind and other potential stumbling blocks had to be dealt with. Our photography team of Jeffrey Martin, Tom Mills and Holger Schulze did an amazing job and not a single individual frame from the more than 48,000 planned was missed."

Related world records:
Oldest working computer: WITCH computer breaks Guinness world record (VIDEO)

Longest linear barcode: AC Labels sets world record

Largest biometric database: Emirates Identity Authority sets world record

Largest light picture using LEDs: Uzbekistan sets world record (PICS)

Longest Line of Baloons Popped With a Laser Pointer: WorldScott.com sets world record (VIDEO)

First robot that can decorate Easter Eggs: Egg-Bot sets world record (PICS & HD Video)

First chocolate printer: The Choc Edge printer sets world record (PICS & HD Video)

Largest Rube Goldberg Machine: PSPE set new world record (Video)

Longest distance traveled by unmanned wave power vehicles: Liquid Robotics sets world record (HD Video)

Heaviest weight lifted with glue: 3M sets world record (Video)

First magnetic soap: Bristol University sets world record (Video)

Largest OLED TV Panel: 55-inch OLED TV sets world record (Video)

Smallest steam engine: German scientists sets world record

Lightest material: Ultralight Metallic Microlattice sets world record (Video)

Largest Flashlight: Germany (HD Video)

Largest hi-fi system: AeroDream ONE sets world record (Video)

Most powerful handheld laser: Wicked Lasers (Video)

Oldest Light Bulb: Livermore firehouse light (Video)

Fastest robot to solve a Rubik's Cube: Robot Ruby (Video)