Tuesday, November 23, 2010

Most Tire Flips in one hour using 555 lb tire - Greg Cochran set world record
GAINESVILLE, GA, USA--Greg Cochran managed to flip a giant earth-mover -tire, weighing in at 555 lbs, 203 times - setting the new world record for the Most Tire Flips on one hour using a 555 lb tire.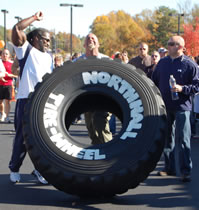 Photo: Front view of final minutes of the world record attempt. Photo by: Shirlice Irick
(enlarge photo)

Tire Toss 2010 was held at Carriage Kia on Browns Bridge Road and hosted kids' activities, live music, food, and a great family time.

Proceeds will benefit First United Methodist Church's Urban Ministry: Baker Glover Home for Children.

With a host of sponsors including Fitness Forum, Texas Roadhouse, Carriage Kia, Fit2Tri, Helton Graphics & North Hall Tire & Wheel, this community oriented event offered live music & Fish 104.7 remote, children's activities, food & fun for the entire family.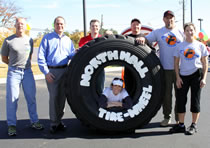 Greg's training apparel was provided by Reebok outlet of Dawsonville.

Photo by:
Killie McCauley
(enlarge photo)


The world record attempt was sponsored by:
Fitness Forum ; Texas Roadhouse; Carriage KIA
Fit2Tri ; North Hall Tire & Wheel; Helton Graphics

The Guinness World record for the Heaviest Aircraft Pulled (Individual) was set by Kevin Fast (Canada), who pulled a CC-177 Globemaster III, weighing 188.83 tonnes (416,299 lb), a distance of 8.8 m (28 ft 10.46 in) at Canadian Forces Base in Trenton, Ontario, Canada.

Guinness World Records also recognized the world record for the Heaviest Weight Lifted with Ear, set by 73 kg (160 lb 15 oz) by Zafar Gill (Pakistan), who lifted gym weights hanging from a clamp attached to his right ear in Lahore, Pakistan.

Subscribe to our free RSS News feed to receive updates.
Related world records:
Most fitness records broken in a day - Stephen Buttler

Longest distance run in 365 days - Serge Girard

Fastest Mile in a Bomb Suit - SSG Eric Johnson

Longest distance run in seven days on a treadmill - Mimi Anderson

Fastest Lunge Mile - Jamasen Rodriguez

Running most consecutive marathons - Mike Buss

11 marathons in 11 days - Kalyn Jolivette

Fastest mile in a bomb suit - SSgt Owen Duff

Youngest coach of an Olympic women's marathon winner - Valeriu Tomescu

Oldest Olympic women's marathon winner - Constantina Dita

Longest Non-stop walking hill marathon - Emil Ilic

Fastest 10K race - Hillary Kimaiyo

Highest Standing Box Jump - Ryan Moody

Fastest mile in a bomb suit - Lt. Jonathan Kehoe

Longest solo run around US perimeter - Reza Balunchi

Most people running in a "Stiletto Sprint''- Australia

Tuesday, November 23, 2010