Monday, May 7, 2012

Smallest Newspaper: Terra Nostra weekly sets world record (PICS)

Ponta Delgada, Portugal--Publiçor, a Portuguese client of Muller Martini, has produced an issue of its weekly newspaper Terra Nostra in the ultra-small size of 25 x 18mm, on the occasion of the World Day of Social Justice - setting the new world record for the Smallest Newspaper, according to World Record Academy: www.worldrecordacademy.com/.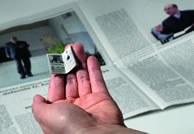 Photo: The World's Smallest Newspaper. (enlarge photo)

The Guinness world record for the record for the largest single copy of a newspaper is a copy of Olvasni Jó, measuring 350 cm x 500 cm (11 ft 5.79 in x 16 ft 4.85 in) made by Magyar Lapkiadók Egyesülete at the Press Festival 2007 in Budapest, Hungary.

Guinness World Records also recognized the world record for the largest advertisement on a building; it was for the Financial Times newspaper covering an area of 19,125.48 m² (205,865.02 ft²) and was on display on the north and east side of 2 International Finance Centre in Hong Kong, China.

Printed in Ponta Delgada, São Miguel island, in the Azores, the special edition of the Terra Nostra was issued, on the Social Justice World Day.

Normally Terra Nostra is published in Ponta Delgada on the Azores island of São Miguel in tabloid format.

On the occasion of the World Day of Social Justice, the newspaper publisher, which relies on Muller Martini systems in its mailroom, came up with a particular idea. The special issue with numerous stories about immigrants to the Azores was also printed in a mini format of 25 x 18mm.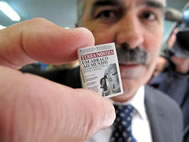 (enlarge photo)

Printed by Nova Gráfica printing house, the revenues will benefit the local branch of the Associação Portuguesa de Deficientes an organization dedicated to the disabled.

With the headline "A hug to the world," the special 32 page edition of Terra Nostra costs 2.5 euro and can be read using a small magnifying glass to increase the text from six to eight times.

The proceeds from the worldwide sales of this small newspaper will be donated to charity.

'We will donate the proceeds to the Portuguese Disabled Association,' said managing director José Ernesto Chaves Rezendes.
The association in turn will make it possible for a literary work by the vision-impaired author Francisco Quarta to be published.

Related world records:
First iPad magazine: CELEBRITY iSPY magazine sets world record

Longest broadcast of a goal with respiration: Ilie Dobre sets world record (Video)

Largest magazine: Visionaire's 'Larger than Life' issue (Video)

Longest broadcast of a goal: Ilie Dobre (Video)

Longest music show by a radio team: Mark Kelly and Simon Saynor (HD Video)

Longest-running television show: Larry King Live

Longest Underwater Broadcast - Brendan Jones and Amanda Keller

Longest Continuous Broadcast - Nikora Curtis

Longest online advertisement - David Sheath

Largest published book - Michael Hawley

Longest Elvis Presley Song-Playing Marathon - DeeJay CJ

Oldest newspaper columnist - Margaret Caldwel

Largest Book - Ayman Trawi

Most expensive Baby photos: Angelina Jolie's twins

Most expensive newspaper copy - Romanian newspaper

Monday, May 7, 2012 7:38 AM