Thursday, August 12, 2010


Longest Continuous Broadcast - world record set by Nikora Curtis

TOLAGA BAY, New Zealand -- Uawa FM DJ Nikora Curtis was live for 176½ hours with no sleep - setting the new world record for the Longest Continuous Broadcast by an individual while raising funds for the small East Coast radio station.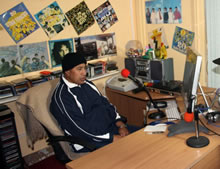 Photo: Nikora Curtis With TV Crew. Photo by Dexter Waru (enlarge photo)

The previous Guinness World Record for the Longest Continuous Broadcast was set by college radio host Johnny Walker who had logged more than 175 hours on air.

Under the Guinness World Records rules, to count as a continuous broadcast, a talent can only take one five-minute break per hour; no song played can be longer than six minutes; during interviews, the broadcaster must speak at least once per minute; and the entire process must be recorded and videotaped.

Tolaga Bay's main street was closed and the fire service has been called to cordon off the town so Uawa locals can use the area as party central.

About 250 people turned out in the main street of Tolaga Bay to count down to the record. Shortly after the celebrations, Curtis went back to attempt to get to 200 hours but was too tired.

"The celebrations used up the rest of his energy that he had," the station's programme director Dexter Waru said.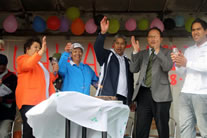 Photo: Left To Right: Radio Presenter: Gayle Lewis, Director: Nanette Kernohan, Station Manager:Nikora Curtis, Mayor Meng Foon, Programme Director Dexter Waru. Photo by Terau Kutia Ngata. (enlarge photo)

"He passed the record and that was our goal, so he's done that and put Tolaga Bay on the map," Waru said.

The stunt was to raise money to fund the small East Coast radio station. $5,000 in donations had been collected, not including people who had pledged money.

He has not had a single coffee. He says his trick is drinking only water to stay hydrated.

Mr Curtis was flanked during his world record attempt by two aunties tasked with keeping him occupied and awake. They are not going to let him fail.

"Oh course he's going to make it!" says Diana Atkins. She is just one of the many Uawa locals who have given up their time to sit with Mr Curtis to help him break the record. "They are here to play cards and tap me on the shoulder. It's been awesome - telling stories and people playing guitar and things."

In the end, Mr Curtis makes his obligatory speech.

"At the end of the day, life is what you make of it.

"I thank you for turning up and I am deeply humbled. We are whanau here in Tolaga Bay."

Subscribe to our RSS News feed to receive updates.
Related world records:
Longest online advertisement - David Sheath

Largest published book - Michael Hawley

Longest Elvis Presley Song-Playing Marathon - DeeJay CJ

Oldest newspaper columnist - Margaret Caldwel

Largest Book - Ayman Trawi

Most expensive Baby photos: Angelina Jolie's twins

Most expensive newspaper copy - Romanian newspaper

Longest continual broadcast: Mike Russell

Longest Radio Show-world record set by Johnnie Walker

Thursday, August 12, 2010