Thursday, November 3, 2011

Largest magazine: Visionaire's 'Larger than Life' issue sets world record (Video)

NEW YORK, NY, USA -- An oil-drenched Lady Gaga appears in her mermaid form on Visionaire's "Larger Than Life" issue; the Deluxe Edition, at 57.48 x 79 inches, sets the new world record for the Largest magazine, according to World Record Academy (www.worldrecordacademy.com).


Photo: Lady Gaga latest incarnation is as a mermaid for the cover of Visionaire's 'larger than life' issue, the largest magazine ever published.
(enlarge photo)

The previous Guinness world record for the largest single edition of a magazine was set by Norwegian travel magazine ZINE travel, which measured 201 cm (6 ft 7 in) wide by 270 (8 ft 10 in) tall.

Guinness World Records also recognized the world record for the Oldest magic magazine, set by Abracadabra, first published on 2 February 1946 in Birmingham, UK.

Lady Gaga can be seen in her latest incarnation as a mermaid on the cover of Visionaire's "larger than life" issue.

Says the publication, "Visionaire broke the Guinness World Record for the largest magazine with LARGER THAN LIFE at 36 x 49.48 inches. Then we shattered our own record with a Deluxe Edition at 57.48 x 79 inches."

At seven-feet tall, Visionaire' s latest issue is the largest magazine ever published, and was launched in New York.

The magazine, which was founded in 1991, chose an arresting image of Gaga as an oil-covered mermaid, shot by Inez van Lamsweerde and Vinoodh Matadin.

There is also an image of Karl Lagerfeld, as voyeur, wandering around a stage of out-sized legs and bottoms.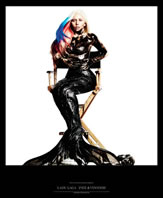 (enlarge photo)

Other contributors to the issue include photographers Steven Klein, Mario Sorrenti, Marilyn Minter, Ed Ruscha, Tom Sachs, Bruce Weber, Sam Taylor-Wood and Ridley Scott.

Published three times a year, Visionaire takes on a completely different format and theme each time, and quickly become collectors' items.

The deluxe issue is 57 inches by 79 inches, and only 250 copies will be printed, and will cost 1,500 dollars, and a smaller version for just 375 dollars.

Related world records:
Longest music show by a radio team: Mark Kelly and Simon Saynor (HD Video)

Longest-running television show: Larry King Live

Longest Underwater Broadcast - Brendan Jones and Amanda Keller

Longest Continuous Broadcast - Nikora Curtis

Longest online advertisement - David Sheath

Largest published book - Michael Hawley

Longest Elvis Presley Song-Playing Marathon - DeeJay CJ

Oldest newspaper columnist - Margaret Caldwel

Largest Book - Ayman Trawi

Most expensive Baby photos: Angelina Jolie's twins

Thursday, November 3, 2011