Tuesday, October 11, 2011

Highest Webcam: Mount Everest webcam sets world record (Video)

MOUNT EVEREST, Nepal -- MOBOTIX high definition webcams have been installed to monitor Mount Everest as par of the Everest SHARE 2011 research project , setting the world record for the Highest webcam, according to World Record Academy (www.worldrecordacademy.com).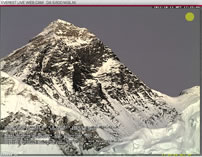 Photo: The World's Highest Webcam streams live video of Mount Everest's peak from an altitude of 5675m. Live Screen capture: WRA/Mobotix (enlarge photo)

The Guinness world record for the most live streams for a single event was set by The YouTube broadcast of Prince William's marriage to Catherine Middleton (both UK) in London, UK, which achieved a record 72 million live views.

Guinness World Records also recognized the world record for the Most conquests of Mt Everest: Apa Sherpa (Nepal) reached the summit of Mt Everest for the 21st time on 11 May 2010, the most times anyone has ever successfully climbed the world's highest mountain.

SHARE stands for "Stations at High Altitude for Research on the Environment", and a MOBOTIX camera will be used to document the weather conditions.

The public can watch real-time video through the MOBOTIX webcam monitoring the top of Mount Everest using any browser.

The type-M12 camera installation sets a new world record -- the operation of the highest webcam in the world at temperatures reaching minus 30 degrees Celsius.

Powered by a solar panel, the MOBOTIX camera delivers high-quality images in spite of the icy temperatures, which can reach minus 30 degrees Celsius.

The Ev-K2-CNR scientific committee from Bergamo, Italy, installed a type-M12 MOBOTIX camera on nearby Kala Patthar (5,675 meters tall). This camera is currently recording images of the 8,848-meter tall Mount Everest.

The installation was carried out by Italian engineers together with the Nepalese Ev-K2-CNR team and was coordinated by Giampietro Kohl, leader of the Ev-K2-CNR technical committee.

Kohl says, "We spent months developing the perfect setup for the installation and invested a lot of time testing and verifying the system. And it inspired us on to set a record: operating the highest webcam in the world."

The video shows Mount Everest as well as the South Col Plateau on the right side of the image.

Everybody can watch real-time video from the top of Mount Everest right from the comfort of the home computer.

The image is updated every five minutes to track the movement of the clouds around the mountain's summit. The webcam is only active during daylight hours (6:00am to 6:00pm Nepalese time).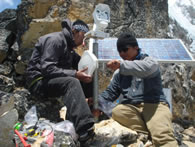 Photo: A crew installs the Mobotix Webcam at high altitude. Credit: Mobotix (enlarge photo)

Researchers selected Kala Patthar as the camera location because it offers an excellent view of the western side of Mount Everest, including the north and southwest faces of the mountain and the West Ridge.

The World's Highest Webcam uses a wireless connection to transmit images to the Ev-K2-CNR Pyramid Laboratory/Observatory located at an altitude of 5,050 meters. Here, the video is analysed and then sent to Italy for further evaluation.

Researchers hope to learn more about climate change and global warming using this video.

Related world records:
Most popular female star on Facebook: Rihanna (Video)

Most viewed online ad: 'Evian Roller Babies' (Video)

First website made out of chocolate: Sagres (Video)

Most Fans on Facebook in 24 Hours: Frito-Lay

Largest online guitar lesson: Steve Vai (Video)

Largest Digital Archive of Holocaust Victims: Google's Holocaust collection

Oldest Facebook user: 103-year-old Lillian Lowe

Most comments on a Facebook post: Swayze's Fans

Most expensive domain name: sex.com

Most People Tagged in an Online Photo: Orange

Most expensive virtual item: Crystal Palace Space Station

Fastest update of relationship status: Dana Hanna and Tracy Page

Largest Online Collaborated Jigsaw: Lipton Yellow Label Tea

Most popular video ever: Numa Numa by Gary Brolsma

Most downloaded application in 24 hours - Firefox 3

Longest domain name - Llanfairpwllgw- yngyllgogerychwyrndrobwll-Llantysiliogogogoch.com

Tuesday, October 11, 2011