Tuesday, July 7, 2009

Most popular video ever: Numa Numa by Gary Brolsma sets world record

MIAMI, FL, USA -- Gary Brolsma's video dancing to the tune of Numa Numa (Dragostea din tei) has an estimated combined over 1 Billion views: setting the world record for the Most popular video ever.

Gary Brolsma aka Numa Numa: "It is encouraging to watch all of the Numa videos that were created by others in the same fun-loving spirit regardless of what part of the globe they happen to live. Smiles are universal. Happiness knows no culture or geography. Joy is bipartisan. Be kind to everyone - for everyone is having a hard time."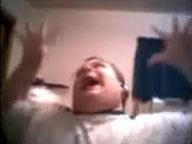 Brolsma's video, released in December 2004 onto the website Newgrounds.com, was the first Numa Numa-themed video to gain widespread attention.

Numa Numa has also received the "#1 Internet Celebrity" title from VH1 at the 40 Greatest Internet Superstars.

The New York Times wrote: "Mr. Brolsma, a pudgy guy from Saddle Brook, made a video of himself this fall performing a lip-synced version of "Dragostea din tei," a Romanian pop tune, which roughly translates to "Love From the Linden Trees." He not only mouthed the words, he bounced along in what he called the "Numa Numa Dance" - an arm-flailing, eyebrow-cocked performance executed without ever once leaving the chair."

"The question remains why two million people would want to watch a doughy guy in glasses wave his arms around online to a Romanian pop song."
"It definitely has to be something different," said Tom Fulp, president and Webmaster of newgrounds.com. "It's really time and place." "The Numa Numa dance," he said, sounding impressed. "You see it and you kind of impulsively have to send it to your friends."

His friends say Mr. Brolsma has always had a creative side. He used to make satirical Prozac commercials on cassette tapes, for instance. He used to publish a newspaper with print so small you couldn't read it with the naked eye.

Related world records:
Most watched video on YouTube: Gangnam Style breaks Guinness World Records' record (VIDEO)

Most liked person on Facebook: Shakira breaks Guinness World Records' record (VIDEO)

Oldest Facebook user: Maria Colunia Seguar-Metzgar sets world record

Most widespread social networking message: Justin Bieber sets world record (Video)

Most comments on a single Facebook item: Facebook fans breaks Guinness world record (Video)

Highest Webcam: Mount Everest webcam sets world record (Video)

Most Downloads of a Translation Software: Babylon.com

Most popular female star on Facebook: Rihanna (Video)

Most viewed online ad: 'Evian Roller Babies' (Video)

First website made out of chocolate: Sagres (Video)

Most Fans on Facebook in 24 Hours: Frito-Lay

Largest online guitar lesson: Steve Vai (Video)

Largest Digital Archive of Holocaust Victims: Google's Holocaust collection

Oldest Facebook user: 103-year-old Lillian Lowe

Most comments on a Facebook post: Swayze's Fans

Most expensive domain name: sex.com

Most People Tagged in an Online Photo: Orange

Most expensive virtual item: Crystal Palace Space Station

Fastest update of relationship status: Dana Hanna and Tracy Page

Largest Online Collaborated Jigsaw: Lipton Yellow Label Tea

Most popular video ever: Numa Numa by Gary Brolsma

Most downloaded application in 24 hours: Firefox 3

Longest domain name: Llanfairpwllgw- yngyllgogerychwyrndrobwll-Llantysiliogogogoch.com

Tuesday, July 7, 2009