Thursday, July 9, 2009


Largest Online Collaborated Jigsaw-Lipton Yellow Label Tea sets world record

NEW DELHI, India--Indian jigsaw puzzle enthusiasts have put together 25,000 images of a puzzle in an online challenge initiated by Lipton Yellow Label Tea, (a brand of Hindustan Unilever Ltd.)-setting the world record for the Largest Online Collaborated Jigsaw.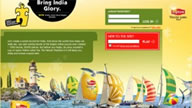 The record is based on the number of jigsaw pieces combining together to form the World's Largest Online Jigsaw.

Twelve top scorers of the puzzle along with Royce McClure, who had designed the image of the jigsaw, and Bollywood actress Konkona Sen Sharma came together at the culmination of the week long activity of solving the entire puzzle in the physical space.

"I am glad we have created a record which actually required people to use their brains and not by just showing the number of parathas you can eat," quipped Konkona, who looked elegant in a white kurta and black jeans.

The record making spree on www.stay-sharp.in started on the 22nd of April this year, with the puzzle being made available on the website until 30th June 2009.

The last day of the exciting week long activity saw the twelve top scorers along with Royce McClure and actress Konkona Sen Sharma, jointly, completing the offline version of the puzzle amidst much fanfare at Delhi's Select City Walk Mall, Saket.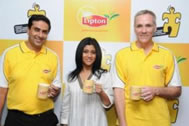 Photo: L to R: Vikram Grover, Category Head, Beverages, HUL along with Bollywood actress Konkona Sen Sharma & Royce B. McClure the man behind the historic image of the World's Largest Online Collaborated Jigsaw Challenge at the crowning of it's World Record at Select City Walk, Saket, New Delhi (enlarge photo)

The World's Largest Online Collaborated Jigsaw Challenge launched by Lipton Yellow Label Tea brought approximately 196,644 sharpest minds of the country synchronously putting together the pieces.

The 12 fastest scorers were then called on to put together the image in its physical form, which measures 36×16 feet, and depicts animals and marine life and has lots of colour. According to McClure, the jigsaw simply depicts "Life".

On this prestigious occasion, Mr. Vikram Grover, Category Head, Beverages, HUL, said, "We re-launched Lipton Yellow Label Tea with a perfect blend that ensures delivery of the required levels of Theanine, which along with the other tea goodness, helps to clear your mind and thus Stay Sharp.
In line with this proposition, we had launched the World's Largest Online Collaborated Jigsaw Challenge to bring the sharpest minds together to put India on the sharpest thinkers map, and set a world record.
We at Lipton are extremely delighted to see the jigsaw authenticated by such prominent record books. This is a moment of pride not for only us, but for the entire nation."

Royce B. Mclure added, "The concept of jigsaw puzzles has embodied itself with the growing up phase of each and every individual. The Jigsaw Challenge launched by Lipton Yellow Label Tea is unique, as for the first time ever; a challenge of this kind on the online space brought the people of India together to create a milestone in history."

Konkona Sen Sharma added, "I am completely elated. I think this initiative by Lipton Yellow Label Tea has not only got India glory but has also proved to the world that the sharpest minds hail from India. Indians are known for their sharpness and intelligence around the globe and this was the ideal platform to put India on the sharpest thinkers map."

Related world records:
Largest jigsaw puzzle commercially available-world record set by Educa

Largest jigsaw puzzle-world record set by Ravensburg

Fastest puzzle completed by Elaine Lewis set world record

Most popular video ever-Numa Numa by Gary Brolsma sets world record

Most downloaded application in 24 hours-world record set by Firefox 3

Longest domain name-world record set by Llanfairpwllgw- yngyllgogerychwyrndrobwll-Llantysiliogogogoch.com

Thursday, July 9, 2009