Largest crossword-world record set by Lvov

LVOV, Ukraine -- Local artists have created a 100-foot-high (30 meters) crossword puzzle that covers an entire external wall of a residential tower-setting the world record for the Largest crossword.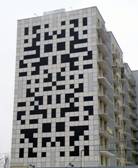 Photo: The world record puzzle covers the entire side of a residential tower block that's approximately 30 meters tall. During the day the crossword appears empty - with the answers lighting up at night. (enlarge photo)

Officials said clues to the giant puzzle, which is aimed at attracting tourists to the city of Lvov, are scattered around parks, theaters, fountains and other landmarks in the city.


The literary challenge encouraged participants to test their grey matter during their weekend promenades, providing them with an opportunity to work out their brains and their legs at the same time.

The idea was to allegedly make partakers collect themselves outside the tower block each night to match or correct their answers.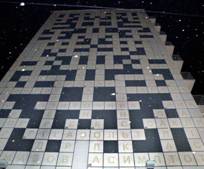 Photo: The answers are revealed every day at nightfall, when fluorescent letters placed inside the giant puzzle's squares are illuminated. (enlarge photo)

The giant crossword, that fills the entire external wall of the residential building, was formed in a bid to lure more tourists to the city.

The city of Lvov is in the far west of Ukraine, close to the border with Poland. It has a tradition of high culture, boasting its own philharmonic orchestra, opera and ballet. The historic city centre was designated a Unesco World Heritage Site in 1998.

Related world records:

Tallest person in the world is Ukrainian Leonid Stadnik

Biggest coffin-Eternity restaurant sets world record

Longest frisbee throwing (for the over 55s)-world record set by Patricia Martin

Largest Online Poker Tournament-world record set by PokerStars

Most dominoes toppled by a group -world record set by Mr.Domino and team

Longest darts marathon-world record set by Jeff Garland and mates

Longest consecutive bounce-Michigan boys sets world record

Longest croquet game-world record set by Adams players

Most People Playing Domino-world record set by World Domino Championship

Largest game of Head, Shoulder, Knees and Toes -Ladue students sets world record

Longest continuous play of a single FPS-world record set by The Frag Dolls

Largest Domino tournament-world record set by Old Spice Domino Tournament

Highest billiard beak-world record set by Peter Gilchrist

Most skips of a stone on water-world record set by Russel Byars

Longest stone throw -world record set by Ray Oster

Wednesday, January 14, 2009