Highest billiard beak-world record set by Peter Gilchrist

[Oct 7] HAMILTON,New Zealand--English-born Singaporean billiards master Peter Gilchrist has set a new world record break in Hamilton.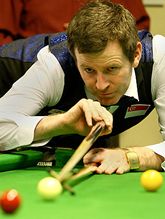 On the first day of the New Zealand Open Billiards Championships at the Hamilton Cosmopolitan Club yesterday, he shot a break of 1346, easily surpassing the previous world record of 1246.

Photo:
MARK TAYLOR/Waikato Times

He also set a second world record in that in only making fourvisits to the table for an average break of 426, he eclipsed the previous best "average visit" of 243.

Gilchrist was elated with the break as his previous highest was 917. "I was a bit worried when I was getting close to the 1,000 mark but relaxed after passing it," said the cueist, who managed a break of 887 the day before.

Former world champion Sethi praised Gilchrist for the new record. "It is fantastic to know about Peter's 1346 with an average of 426 per visit. Though every break is with remarkable effort, it's special as no one has managed to touch the 1000 mark in last 15 years," he said.

A large crowd was spellbound by the mastery shown by Gilchrist, who was World Professional Billiards Champion in 1994 and 2001, but now works as coach for the Singapore Snooker and Billiards Association.

His previous highest break was 917. He said that he was a bit worried getting close to 1000 but relaxed after he had passed the mark.

"This guy was a class above anyone seen in New Zealand before," said Ron Hunt, chairman of Hamilton Workingmen's Club billiards and snooker section.

"He was miles ahead of anyone. Most people really appreciated the opportunity to see him in action."


Fastest single-turbine engine plane