Longest continuous play of a single FPS-world record set by The Frag Dolls

[April 11] World Wide Web--The Frag Dolls have set the record for "Longest continuous play of a single FPS" with Rainbow Six Vegas 2 at an event on March 22.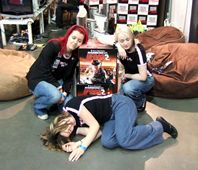 Kitt, Sarin and Jam completed the hard-on-the-back task at i-33, a LAN event held in the UK.

(enlarge photo)

Attendees could jump in and join the Dolls for a quick game, to offer moral support via shoulder rub or cup of tea, or just to prod them every few minutes to make sure they stayed awake.

The Frag Dolls are a group of women recruited and promoted by Ubisoft to bring the presence of women in gaming to the industry's attention. At least, that's what they started out to be. However, they are really a bunch of really cool gamers who can kick some serious ass on the PC - and they just happen to be women.

Frag Doll Kitt said, "I can't believe I'm a world record breaker! I'm brimming with pride that we've achieved this. I'd like to thank everyone who supported us, playing with us on Live and donating to Breakthrough Breast Cancer."