Longest consecutive bounce-Michigan boys sets world record

FLAT ROCK, Mich., USA -- Eight boys in Michigan, ages 8 to 11, bounced for 24 hours, setting the new world record for the Longest consecutive bounce.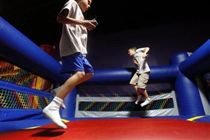 Photo: Mason Brott, 10, of Rockwood is joined by his brother Dillon Brott, 8, in an effort to break the world record for consecutive bounce, at the Bounce-A-Lot in Flat Rock, Mich., on Friday, Aug. 1, 2008. (AP Photo/The Detroit News, John T. Greilick)
-enlarge photo

The boys began the attempt Friday morning at the Bounce-a-Lot entertainment center southwest of Detroit in Flat Rock. They bounced two at a time in shifts in an inflatable castle.

Ten-year-old Mason Brott says the bouncing wasn't as tough as he thought it would be.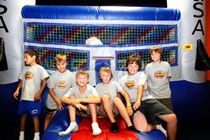 Photo: Bounce Warriors, from left, Jerry Lakos, 10; Dillon Brott, 8; Mason Brott, 10; Dillon MacDonald, 11; Zachary Darville, 10; and Austin McQuiston, 10; all of Rockwood, Mich. pose for a team photo Friday Aug. 1, 2008 at the Bounce-A-Lot in Flat Rock, Mich., while teammates Hunter Lizyness, 9, of Rockwood; and Dakota Martin, 10, of Riverview, not shown, were bouncing in hopes of breaking a world record for bouncing two at a time in shifts in an inflatable castle.
(AP Photo/The Detroit News , John T. Greilick ) -enlarge photo

"He thought about it at the end of the school year, and I said, 'OK' when he asked me to do it," said Jerry Lakos, 10, who attended Chapman Elementary with Mason. "I really didn't think we were going to do this."

The previous world record for the Longest consecutive bounce was 19 hours and 24 minutes, set nearly two years ago.

Sunday, August 3, 2008