Tuesday, July 17, 2012

Largest Margarita: Nick Nicora breaks world record (PICS & VIDEO)

Sacramento, CA, USA -- A 10500 gallon cocktail of Calarita Margarita was made at the 2012 California State Fair by Nick Nicora of Ovations Food Services who set the new world record for the Largest Calarita Margarita Cocktail, according to the World Record Academy: www.worldrecordacademy.com/.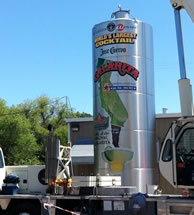 Photo: The World's Largest Calarita Margarita Cocktail.
(enlarge photo)

The Guinness world record for the largest margarita had a volume of 32,176 litres (7,077.73 gal, 8,500 US gal) and was achieved by Margaritaville (USA) in Las Vegas, Nevada, USA.

Guinness World Records also recognized the world record for the largest glass of beer; it contained 1,499 litres (329.74 gal, 396 US gal) of Guinness and was prepared at The Auld Dubliner Irish Pub in Tustin, California, USA.

The Calarita was completed after many hours of filling with the following ingredients:
2,100 gallons of Jose Cuervo tequila
4 gallons of Cointreau
2,800 gallons of Margarita mix
75 40-pound bags of ice
5,190 gallons of water
50 gallons of lime juice

According to California State Fair officials, "On hand Friday to witness the world record was Ricardo Hussong, an old friend of Nicora's and third-generation owner of Hussongs Cantina in Ensenada, Baja California.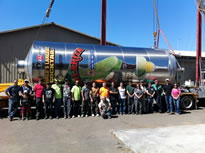 (enlarge photo)

The Calarita Margarita crew consisted of more than 20 volunteers who poured Nicora's 10,500 gallon cocktail into a 25-foot tall, 20 horse power blender made by Westec Tank and Equipment Co. in Sonoma County.

"Legend has it that a Hussongs bartender created the first Margarita in October 1941, for Margarita Henkel, daughter of the German ambassador to Mexico." Nicora super-sized the Hussongs recipe for the record-setting Calarita.

"Ovations' partners for the world record attempt were Brett Enright of Juicy's catering services, Jose Cuervo tequila and Joe Belli of Westec Tank and Equipment Co., which built the enormous Chardonnay tank outfitted with five chill sleeves and a spigot."

The World's Largest Margarita will be served at the California State Fair, Cal Expo in Sacramento in souvenir cups and shakers until July 31, 2012.

Anyone 21 and older can purchase a filled 16-ounce souvenir cup for $10 or a filled 16-ounce souvenir shaker for $15. Drinks are $5 each during Calarita Happy Hour, which is 4-6 p.m. Monday through Friday.

Related world records:
Largest smoothie: Chichester students sets world record

Most varieties of gin commercially available: The Feathers Hotel sets world record (PICS)

Oldest Bartender: Angie MacLean sets world record (PICS and Video)

Largest toast in one venue: Welch's and Red Sox Nation set world record (Videos)

First Self-Chilling Beverage: West Coast Chill sets world record (Video)

Largest margarita: Margaritaville Las Vegas (Video)

Most pubs visited in 24 hours by a team: 'Thirsty 13'

Most people cocktail flairing simultaneously: T.G.I. Friday's UK (Video)

Longest Ice Bar: Crystal Creations and Wicked Audio (Video)

Most cocktails made in an hour: Sheldon Wiley

Most Cocktails Made in an Hour (Team): United States Bartenders' Guild

Largest Pink Margarita: Ricardo's Mexican Restaurant

Largest smoothie: Dairy Farmers of Canada

Largest bottle of grappa: Distilleria Bottega

Most Exclusive Mint Julep Cup: Woodford Reserve

Largest Punch Bowl: Courvoisier and Bompass & Parr

Most bottles opened in one minute: Adam Dolman

Fastest Bartender: Chris Raph

Fastest cocktail mixing: Bobby Gleason

Most Varieties of Rum Commercially Available: Marco Polo Hotel

Tuesday, July 17, 2012 11:14 AM