Fastest cocktail mixing-world record set by Bobby Gleason

[Feb 28]LAS VEGAS, USA--Global master mixologist Bobby "G" Gleason set a new World Record by mixing 253 delicious cocktails in 60 minutes.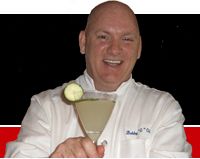 Using DeKuyper® cordials and liqueurs and Hornitos™ tequila, the record-breaking feat topped the previous record of 179 cocktails in 2004.

The record was completed in front of the industry's leading bartenders and distributors at the Nightclub & Bar Convention & Trade Show to demonstrate just how quick and easy it is to mix up creative cocktails.

Bobby G averaged just over four cocktails per minute.

A natural fit for the competition, DeKuyper®, the best selling line of cordials and liqueurs in the United States with nearly 60 flavors, and Hornitos Tequila, one of America's original and favorite 100 percent Agave tequilas, came together to form the colorful cocktail menu featuring a wide range of flavors that could satisfy any palette.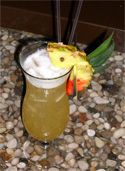 In mixing 253 cocktails in 60 minutes, Bobby G's goal – in addition to setting a world record – was to eliminate the pressure of mixing cocktails.

Photo:
1838 Cocktail by Bobby "G" Gleason

"It's all about balance," said Bobby G. "When you have an excellent, super premium base spirit, like Hornitos tequila, and a variety of DeKuyper cordials, you can start to experiment and expand your home bartending skills. Combining great flavors and quality spirits – that's when perfect cocktails come alive."

In setting the world record, Bobby G proved that there is more to tequila than shots. By pairing the fine line of Hornitos tequila – Plata, Reposado and Anejo – with nearly 60 flavors of DeKuyper, Bobby G created 70 margaritas, including the Hornitos Blueberry Margarita and DeKuyper Pomegranate Margarita.

These cocktails are memorable and fun and easy to make. For a complete list of cocktails Bobby G prepared, visit www.DeKuyperUSA.com in early March.

From the Record to the Road – Bobby G to Teach Cocktails 101 From March to July, Bobby G will be touring six cities to teach the fine art of making delicious cocktails for any occasion from Cinco de Mayo fiestas to backyard BBQ blasts. With mixing demonstrations and recipe tips using DeKuyper cordials and Hornitos tequila, Bobby G will show how easy it is to mix up new flavors of great tasting cocktails at home. Tour stops include Chicago, Dallas, Detroit, Los Angeles, Miami and New York.

About Bobby G
Bobby G has been tending bar and creating delicious drinks since 1984 and currently reigns as the master mixologist for Beam Global. The cocktail connoisseur got his start in the fast-paced nightclubs of South Florida before relocating to Las Vegas, where he opened bars at the Mirage Hotel, Treasure Island and the Bellagio. He worked with master mixologist Tony Abu-Ganim and studied under Francesco LaFranconi, the famed bartender and spirits educator.

In addition to breaking the world record, Bobby G holds the title for the "World's Most Sensuous Cocktail" by Penthouse magazine and has won many awards such as Bartender magazine's New York International Cocktail Competition, putting him in the upper echelon of the bartending community.

Las Vegas based Robert "Bobby G" Gleason has been a professional bartender for over 22 years and is recognized worldwide as a champion mixologist. He has been published in Penthouse, Sante, Market Watch, Cheers, Night Club and Bar magazine, and is a regular contributor to Las Vegas magazine and flairbar.com. In addition, he has appeared on television on CNBC, E! Entertainment Television, and the Travel Channel.

Link: Bobby G's Blog