Wednesday, June 6, 2012

Most varieties of gin commercially available: The Feathers Hotel sets world record (PICS)

Woodstock, Oxfordshire, UK -- The Feathers Hotel, in Woodstock, Oxfordshire, has 161 gins, with bottles dating back to the 1960s and from as far away as South America and Japan - setting the new world record for the Largest Gin Collection, according to the World Record Academy: www.worldrecordacademy.com/.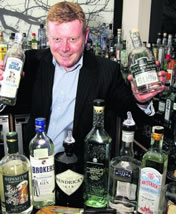 Photo: Jeremy du Plessis with some of the 161 different gins The Feathers Hotel bar boasts. Photo: Ric Mellis (enlarge photo)

Its collection is three times the size of that held by the previous world record holder, a bar in London.

The Guinness world record for the largest shot slam involved 2,435 people who all drank a shot of gin, in an event organised by Ginebra San Miguel Inc. & GSM V Distrubutors Inc. (Philippines) at the Naga City Coliseum, Philippines.

Guinness World Records also recognized the world record for the most people opening bottles simultaneously: 4,339 - achieved by Bavaria Sab Miller Colombia – Maltizz Product Agency Support SSA Publicidad y Mercadeo S.A. (Colombia) at the Simon Bolivar Park, Bogotá, Colombia...

General manager Jeremy Duplessis said: "We have picked up gins from all corners of the world, so it's great to have our efforts rewarded."

"It's fantastic for Woodstock because it puts it on the map, and it also kicks the Queen's Jubilee off in a traditional way as we all know she loves a gin and tonic."

Mr du Plessis, 49, said: "There are big differences from one gin to another. I didn't realise myself just how much difference there is.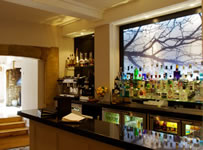 (enlarge photo)

"There is a lot of stuff out there which is mass produced and generic, but some gins you have to order.

"If you were to walk into a decent restaurant you would expect to get a wine list – we have got a gin list."

He added: "It goes to show that if anyone wants to emulate us and jump on the back of the achievement they'll have to put in a lot of investment time to look around and source stuff."

Though it originated in medieval Italy, the spirit became popular in Britain after the Government allowed unlicensed production, prompting a gin craze.

The hotel's collection took three years to amass.

It includes brands from The Netherlands, Spain, Japan, the US, and Poland. Some date back to the 1960s and are worth £200 per bottle.

Related world records:
Largest smoothie: Chichester students sets world record

Oldest Bartender: Angie MacLean sets world record (PICS and Video)

Largest toast in one venue: Welch's and Red Sox Nation set world record (Videos)

First Self-Chilling Beverage: West Coast Chill sets world record (Video)

Largest margarita: Margaritaville Las Vegas (Video)

Most pubs visited in 24 hours by a team: 'Thirsty 13'

Most people cocktail flairing simultaneously: T.G.I. Friday's UK (Video)

Longest Ice Bar: Crystal Creations and Wicked Audio (Video)

Most cocktails made in an hour: Sheldon Wiley

Most Cocktails Made in an Hour (Team): United States Bartenders' Guild

Largest Pink Margarita: Ricardo's Mexican Restaurant

Largest smoothie: Dairy Farmers of Canada

Largest bottle of grappa: Distilleria Bottega

Most Exclusive Mint Julep Cup: Woodford Reserve
Largest Punch Bowl: Courvoisier and Bompass & Parr

Most bottles opened in one minute: Adam Dolman

Fastest Bartender: Chris Raph

Fastest cocktail mixing: Bobby Gleason

Most Varieties of Rum Commercially Available: Marco Polo Hotel

Wednesday, June 6, 2012 11:49 AM