Friday, February 10, 2012

Most Generous Boss: Ken Grenda sets world record (HD Video)

MELBOURNE, Australia-- The Grenda family had sold its bus company, established in 1945, for $400 million and boss Ken Grenda decided that his employees deserved to share in the spoils; he handed out Aus$15 million in (US$15.9 million) in thank you bonuses , setting the world record for the Most Generous Boss, according to World Record Academy: www.worldrecordacademy.com/.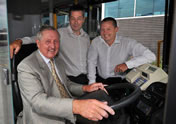 Photo: Mr. Ken Grenda, The World's Most Generous Boss. (enlarge photo)

The Guinness world record for the oldest living US dollar billionaire was set by John Simplot, who had a net worth valued at $3.2 billion (£1.6 billion) when listed on Forbes.com on 8 March 2007, aged 98 years 63 days. Mr Simplot of Boise, Idaho, USA, self-made his fortune in the agricultural business, most notably in potato products.

Guinness World Records also recognized the world record for the richest person alive, set by Carlos Slim Helú (Mexico), with an estimated worth of $53.5 billion (£35.23 billion) to top the 2010 Forbes list of the World's Billionaires.

Ken Grenda, 79, sold his family-run company after 66 years and decided to put a chunk of the profits into the pockets of his employees for their hard work and loyalty.

Many of his 1,800 workers thought their banks had made an error when they discovered thousands of dollars in their accounts, the Herald Sun reported.

They received an average $8,500 although some got bonuses as high as $100,000.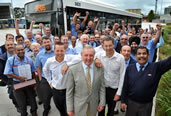 Photo: Ken Grenda, pictured with his sons Geoff and Scott gave the cash rewards to 1,800 of his staff after the sale of his Melbourne-based bus company.
(enlarge photo)

"This had blown a lot of them out of the water," said former owner Ken Grenda. "We've had guys in tears, we've had fantastic emails."

"A business is only as good as its people, and our people are fantastic," Grenda said.

"This is to recognise that. We have had people here who are second generation, and one fellow in the same job for 52 years."

Iain Beberidge, who has worked with the Melbourne-based company for 15 years, said the appreciation the employees felt was not all about the money.

"Ken looked after his employees, he treated them like family," he said. "Every time he comes past the depot, he shakes everyone's hands, and says 'g'day'."

The company has been bought by another transport operator, Ventura, with all staff reportedly keeping their jobs.

A bus driver identified only as Heath told the newspaper that some staff had telephoned their banks assuming an error had been made after the bonuses were paid directly into their accounts.

"Good bosses are hard to find and Ken was a very good boss- one of a kind," Heath said.

Related world records:
Richest panhandler: Professor Frances Gabe (Video)

First gold vending machine:"Gold to Go"

Longest Serving Central Bank Governor: Mugur Isarescu

Largest Cut Paraiba Tourmaline: Ethereal Carolina

Largest Business Card: BusinessCard2

Largest Candy Store: Candylicious Dubai

Largest legal document: ING Life Insurance Romania

Most expensive sari: Chennai Silks

Largest single deal for buses: RTA Dubai

Fastest deal: Donald Trump and Ricardo Bellino

Friday, February 10, 2012