Tuesday, June 25, 2013

Longest drumming session: Andrew W.K. breaks Guinness world record (VIDEO)

NEW YORK, NY, USA -- Andrew W.K. of the "Party Hard" fame played from 7 p.m. Wednesday evening until the same time on Thursday, without stopping, clocking a full twenty-four hours of drumming inside the Oakley store in New York's Times Square, during this year's O Music Awards' 24-hour "Live Music Day," setting the world record for the Longest drumming session inside a retail store, according to the World Record Academy: www.worldrecordacademy.com/.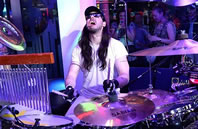 Photo: During this year's O Music Awards' 24-hour "Live Music Day," W.K. spent the entire time drumming in an attempt to set a new world record. (enlarge photo)

The Guinness world record for the longest marathon drumming by an individual is 121 hours, achieved by Steve Gaul (Canada), at Burlington Music Center, in Burlington, Ontario, Canada.

Guinness World Records also recognized the world record for the largest drumming lesson; it involved 1651 participants and was achieved by World Arts & Multi-Culture Inc at the first annual Taiwan Festival in Brisbane, Queensland Australia.

During this year's O Music Awards' 24-hour "Live Music Day," which kicked off on Wednesday, W.K. spent the entire time drumming in an attempt to set a new world record.

He was accompanied by Chad Smith of Red Hot Chili Peppers, Zac Hanson, and even (who knew?) Cuba Gooding, Jr., among others to help him power through the vampire shift of MTV's O Awards.

He trained for the drum-a-thon by practicing with weights instead of just drumsticks in hopes that by the time the moment came, it would all feel a lot easier than he was prepared for.

Related world records:
Largest Keyboard Ensemble: New York festival breaks Guinness world record

Most consecutive pirouettes: Sophia Lucia smash Guinness world record (VIDEO)

Best Selling Latin Artist: Julio Iglesias breaks Guinness world record (VIDEO)

Fastest violinist: Ben Lee breaks Guinness world record (VIDEO)

Longest marathon playing accordion: Zoran Zorko breaks world record (VIDEO)

Largest ukulele ensemble: Japan Ukulele Ensemble sets world record

Largest lute ensemble: China sets world record

Largest mandolin ensemble: Va. Music Gathering sets world record (VIDEO)

Most National Anthems performed: Alan St. Louis sets world record (VIDEO)

Highest Concert: Oz Bayldon breaks world record (PICS & VIDEOS)

Largest bagpipe orchestra: Bulgarian pipers set world record (PICS & VIDEOS)

Longest trumpet fanfare line: British soldiers set world record (Video)

Longest Guitar Solo: David DiDonato sets world record (Video)

Longest drumming marathon: Steve Gaul (HD Video)

Longest church organ marathon: Jacqueline Sadler

Deepest a cappella performance: Sudbury choir

Fastest Violin Player: Rock Violinist Ben Lee

Largest Guitar Ensemble: Jimi Hendrix Festival sets world record (PICS & Videos)