Sunday, April 1, 2012

Oldest Gymnast: 86-year-old Johanna Quaas sets world record (Video)

COTTBUS, Germany--Gymnast Johanna Quaas, 86, performed an impressive parallel bar and floor demonstration after finals concluded at Germany's Cottbus Challenger Cup - setting the new world record for the Oldest Gymnast, according to World Record Academy: www.worldrecordacademy.com/.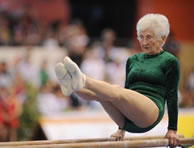 Photo: Johanna Quaas, an octogenarian gymnast displayed her amazing talent at the Cottbus Challenger Cup 2012, which is a pre-Olympics gymnastics event in Germany. (enlarge photo)

The Guinness world record for the oldest person to perform a backflip is Walter Liesner (Germany, b. 14 January 1913) who was 94 yr 268 days when he performed a backflip into a swimming pool, in Wetzlar, Germany.

Guinness World Records also recognized the world record for the largest parallel bars display, achieved by 343 participants at an event organised by Turnverein Sulz (Switzerland) in Sulz, Switzerland.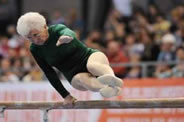 (enlarge photo)
Displaying balance, strength and flexiblity that would be the envy of someone a quarter her age, Quaas's floor routine included a handstand forward roll, cartwheel, backward roll and headstand while on the bars she performed a full planche, holding her body taught and parallel to the ground.

A multiple time senior champion of artistic gymnastics in Germany, Quaas, from Halle in Saxony only took up gymnastics when she was 30, putting paid to the belief that the sport is the preserve of the young.


Related world records:
Most large, forward rotations performed: Roman Sahradyan sets world record (Video)

First perfect 10 at the Olympics: Nadia Comaneci set world record (Video)

Longest front flip: Robert Souris (Video)

Most Cartwheels in a Row: Abhinandan Sadalge

Most consecutive back handsprings: Chelsey Kipping

Longest line of splits: Australian gymnasts

Most Succesful Coach: Octavian Bellu

Most successful women coach: Maria Bitang

Most 10 scores at Olympics: Nadia Comaneci

Largest gymnastic and artistic performance: Arirang Festival

Oldest triathlete: Arthur Gilbert

Oldest marathon runner: Fauja Singh (Video)

Oldest female marathon finisher: Gladys Burrill

Oldest Olympic women's marathon winner: Constantina Dita

Oldest yoga teacher: 89-year-old Gladys Morris

Oldest professional sharpshooter: Chandro Tomar sets world record

Oldest Yoga Teacher: Bernice Mary Bates sets world record

Oldest active boxer: Stephen Ward (Video)

Oldest competitive female bodybuilder: Ernestine Shepherd (Video)

Oldest person to reach the top of Mt Kilimanjaro - George Solt

Oldest Everest climber - Bahadur Sherchan

Sunday, April 1, 2012 7:53 AM