Monday, February 20, 2012

First TV channel exclusively for dogs: DogTV sets world record (HD Video)

SAN DIEGO, CA, USA--A new TV channel, called DOGTV, was launched in San Diego; it has about 800 programs which are designed to relax dogs when the owner isn't around that is specially designed for dogs to watch , setting the world record for the First TV channel exclusively for dogs, according to World Record Academy: www.worldrecordacademy.com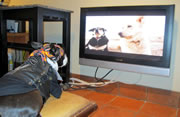 (enlarge photo)

The Guinness world record for the most dogs in costumed attire gathered in a single location is 603 and was achieved by JOKER INC (Japan) and the participating dogs, in Roppongi, Minato-ku, Tokyo, Japan.

Guinness World Records also recognized the world record for the largest simultaneous dog stay, which involved 627 dogs at an event called "Super Sit" organized by the RSPCA at the Wag and Bone Show, Windsor Great Park, UK.

The channel is called DOGTV and has nearly 800 programs for dogs, each lasting about three to five minutes long to fit a dog's short attention span.

The content is color-adjusted and audio-engineered specifically for dogs and is designed to relax dogs and keep them at ease when the owner isn't around.

A dog trainer said dogs have a weaker color spectrum than humans and DOGTV adjusts the colors for the dogs vision. The image may look muted to human eyes, but the colors pop to some dogs, ABC reported.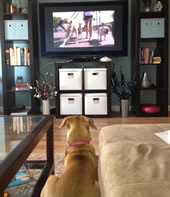 The idea came after a dog owner felt guilty for leaving his dog at home all day at work.

(enlarge photo)

DOGTV is being offered free to San Diego Cox and Time Warner Cable subscribers for the next few weeks, but will eventually cost $5 per month. If successful, the channel hopes to expand to other US markets.


Related world records:
First Dog Kitchen: TrueFoodForDogs

First beer for dogs: Bowser Beer (HD Video)

First concert for dogs - 'Music for Dogs' concert sets world record

Highest man/dog parachute deployment: Mike Forsythe and his dog Cara

Animal Most Photographed with Celebrities: 'Lucky' the dog (Video)

Most expensive dog: Red Tibetan Mastiff "Big Splash" (Video)

Thursday, July 9, 2015 4:51 PM