Tuesday, March 1, 2011

Smallest fish caught on rod and reel: Andy Pelphrey sets world record

Lawrence Co., KY, USA -- Fishing with a rod and reel (a fishing pole), angler Andy Pelphrey, 28, caught a Blacknose Dace measuring 2.4 in. long. and o.9 in. round, weighing in at o.oo8 lbs. (3.5 grams) - which sets the world record for the Smallest fish caught on rod and reel.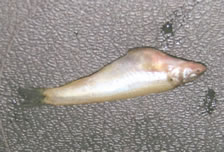 Photo: The World's smallest fish caught on rod and reel. (enlarge photo)

The Guinness world record for the Most species of fish caught on fly rod in one year was set by Ken Niles (USA), who caught 85 different species of fish using a fly rod on in one year.

Guinness World Records also recognized the world record for the most participants in a sea angling competition: 785, achieved by Blue Sea Sport Angling Club (Malta).

Angler Andy Pelphrey a Johnson Co. Kentucky native made the record setting catch using a small piece of a wax worm while wade fishing the small Eastern Kentucky stream called Hood Creek, located in Kentucky on the Johnson and Lawrence County line. He made the catch on the Lawrence County side of the creek.

The angler used a spinning reel combo to make the catch with.

"I was using 4lb. line on my rod and reel, I use 4lb. line to do a lot of trout fishing around here with. I wade this stream several times a year catching a lot of Rainbow Trout and Rock Bass."

The fish was so small it was hard to come up with a small enough hook and then setting the hook in the fish's small mouth took a lot of patience.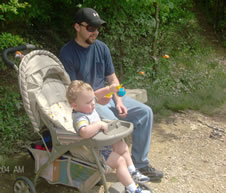 Photo: World Record holder Angler Andy Pelphrey sharing his knowledge with his son. (enlarge photo)

Despite all of Pelphrey's trophy catches made in the past the Kentucky trophy-Master Angler says this, that making this catch was some of the toughest fishing he'd ever done.

After the catch was weighed and certified by The Kentucky Dept. Of Fish And Wildlife, Pelphrey's family was excited about his accomplishment. This was his 3rd state record catch in just a couple of days.

When asked about how it felt to have caught the smallest fish ever recorded Pelphrey said: "if it was good enough for God to make then it's good enough for me to catch if it's sent my way.

"My dad always did say, 'That it's a thrill to catch a fish no matter how big it is.' I for sure find this to be true!"

Related world records:
Largest tuna ever caught: Michael Livingston sets world record

Largest halibut: Günther Hansel

Largest kokanee: Ron Campbell

Largest genetically engineered trout: Sean Konrad

Giant Fluke: Monica Oswald

Biggest Largemouth Bass: Manabu Kurita

Largest Oyster: Richard Mesce

Biggest yellowedge grouper: Heath Cataulin

Biggest lingcod: Robbie Hammond

Biggest Smallfry Smallmouth: Dylan Davis

Largest fish caught on 1 kg line: Guy Jacobsen

Biggest Giant Grouper: Nelson Shayne

Monday, February 28, 2011