Thursday, February 2, 2012

Largest Bead Mosaic: Stephan Wanger sets world record (Video)

New Orleans, LA, USA -- German native Stephan Wanger created a 30' x 8' gigantic bead mosaic (240 sqft) made out of over a million recycled recycled Mardi Gras Beads to help rebuilt destroyed neighborhood, by donating artwork to raise funds - setting the new world record for the Largest Bead Mosaic, according to World Record Academy (www.worldrecordacademy.com).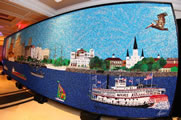 Photo: German-born artist Stephan Wanger has completed the world's largest mosaic ever made out of beads. The work – entitled "Sanctuary of Algeria" – is 8 feet tall by 30 feet wide and contains more than 1 million recycled Mardi Gras beads. All Photos: Stephan Wanger/PR Web (enlarge photo)

The Guinness world record for the largest Bead Mosaic measured 3.74 m (12 ft 3 in) in width by 2.70 m (8 ft 10 in) in height giving an overall area of 10.1 m² (108.7 ft²) and was achieved by the 5th and 6th grade of Scoil Naomh Iosaf Primary School (Irish) in Baltinglass, Co Wickow, Ireland.

Guinness World Records also recognized the world record for the largest umbrella mosaic, which consisted of 2,115 participants and was achieved by the Southern Highlands Youth Arts Council Inc. (Australia), at Bradman Oval Bowral, in New South Wales, Australia.

"Sanctuary of Alegria" showcases a view across the mighty Mississippi River towards downtown New Orleans, complete with the Natchez steamboat, the Carnival Triumph, the Italian tall ship "Amerigo Vespucci" (America received its name from Amerigo) and the German tall ship "Gorch Fock" because of Stephan's heritage as he was born in Wilhelmshaven, Germany – a seaport on the North Sea.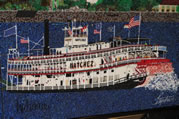 (enlarge photo)

"Sanctuary of Alegria" is a very busy river scene to mark the 200th anniversary (1812 – 2012) of Louisiana's attainment of statehood as the 18th state in the Union and stressing the great importance the Mississippi river has had in Louisiana.

"I have always wanted to create a skyline and I believe this project will be the perfect attempt for competing for a Guinness World Record and do some good," says Stephán Wanger from his gallery located at 1924 Magazine St., in New Orleans.

The community helped as well by signing the artwork, as Stephan has beaded out the signatures of over 300 people's on this gigantic postcard to the world. Two weeks before completion many volunteers helped with filling in the sky and the water.

About 97% of all the beads that Stephan is using in his artworks, are recycled and many of them spray-painted.

The technique of cutting beads, using glue instead of hot glue and the process of creating these art works is new and Stephan gladly teaches it to students and in adult classes.

He continues to create huge mosaics that will help promote his adopted hometown and the state of Louisiana.

The world record attempt is sponsored by FuzziBunz Baby Products, Café Du Monde, PU Furniture, Ryan North Photography, St. Michael Special School, The Arc of Greater New Orleans.

The World's Largest Mosaic Made out of Beads "Sanctuary of Alegria" is now on display at his Galeria Alegria on 1924 Magazine St., in New Orleans Wed-Sun., until March 9, 2012.

Then "Sanctuary of Alegria" will be auctioned off by the Make It Right Foundation to raise funds for the lower ninth ward, a neighborhood in New Orleans that was completely destroyed by Hurricane Katrina in 2005.

Related world records:
Largest coffee bean mosaic: Saimir Strati sets world record (Video)

Largest violin ensemble: Taiwan students sets world record (Video)

Largest 3D painting: Reebok CrossFit sets world record (Video)

Catchiest song ever written: We Are The Champions (Video)

Largest Embroidery by a Single Person: Heather Hems

Longest drumming marathon: Steve Gaul (HD Video)

Largest Lite-Brite Picture: Rob Surette set world record (Video)

Longest church organ marathon: Jacqueline Sadler

Most characters played by one actor: Joe Bone

Deepest a cappella performance: Sudbury choir

Fastest Violin Player: Rock Violinist Ben Lee

Largest Virgin Mary Painting - Suzanne Kraus Mancuso

Longest street concert - Berlin buskers

Slowest Techno Track - Scaramanga Silk

Fastest guitarist - Randall Padilla

Largest String Ensemble - String Jam '10

Longest Concert by a Solo Artist - Alex Carlin

Longest piano concert - Romuald Koperski

Largest porcelain painting - Wang Zhijun

Longest porcelain painting - Pei Yongzhong

Most Santa Claus images on sand - Sudarshan Pattnaik

Longest color pencil drawing - Jainthan Francis

Longest Pop Song - Apparente Libertà by Giancarlo Ferrari

Longest concert by children artists - Stars Club

Youngest String Orchestra to Play at Carnegie Hall - South Pasadena Children's Orchestra

Longest Love Poem - the "Evening Star"

Largest chalk pavement art - JOOnior Smile

Longest guitar marathon - Andy Hoke

Largest Santa Claus ice sculpture - Chinese sculptors

Tallest sand sculpture of Santa Claus - Sudarsan Patnaik

Longest Drumming Marathon - Jagjit Singh

Biggest auction of works by a single artist - Damien Hirst

Largest cork mosaic - Saimir Strati

Most successful female recording artist - Madonna

Longest concert - Balatonfured Guitar Festival

Largest pencil drawing - Filemon Trevino

Largest artwork made of TV sets - LNK Infotree

Thursday, February 2, 2012