Tuesday, December 23, 2014

Longest train journey: Yixinou breaks Guinness World Records' record (VIDEO)

MADRID, Spain -- The world's longest train journey has concluded in Madrid on Dec. 9, 2014 – marking the end of the line for carriages which set off from China 20 days ago to make the 8,000 mile (13,052 kilometers) trip; the train left Yiwu, in eastern China, on November 18 on what is being described as a test journey to see whether the route is viable; a regular freight service could open up next year; the carriages then passed through Kazakhstan, Russia, Belarus, Poland, Germany and France, before arriving in Madrid on December 8 and setting the new world record for the Longest train journey, according to the World Record Academy: www.worldrecordacademy.com/.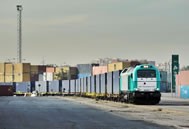 Photo: The train, named "Yixinou" arrives in Madrid Abronigal railway station in Madrid, Spain, on Dec. 9, 2014. Madrid was the final destination for a train which has set the record for the longest train journey in history: 13,052 kilometers between the Chinese city of Yiwu and the Spanish capital. All Photos: Xie Haining/Xinhua (enlarge photo)

The Guinness World Records' record for the longest run without changing trains is one of 10,214 km (6,346 miles) from Moscow, Russia to Pyongyang in North Korea. One train a week makes the journey by this route, which includes sections of the famous Trans-Siberian line. It is scheduled to take 7 days 20 hours 25 minutes.

Guinness World Records also recognized the world record for the Longest passenger train, set by a passenger train created by the National Belgian Railway Company (NMBS); it measured 1732.9m (5685.3ft) and consisted of 70 coaches pulled by one electric locomotive. It traveled 62.5km (38.9miles) from Ghent to Ostend on April 27, 1991.

Li Qiang, the governor of China's Zhejiang province – where Yiwu is located – said the route was important to "implement the strategy of developing a new 'silk road'".

Regular services already exist between China and Germany - arriving from Chongqing to the city of Duisburg, and from Beijing to Hamburg. But a route down to Spain would, it is hoped, significantly increase trade.

The goods on the train which arrived in Madrid had to be transferred to different wagons at three points during the trip because of incompatible track gauges in different countries.

The locomotives were changed every 500 miles, and the wagons were switched at the Dostyk/Alashankou border between China and Kazakhstan; at the Brest/Malaszewicze crossing between Belarus and Poland, and in Irún, on the French/Spanish frontier.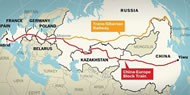 The 13,052 kilometers between Madrid and Yiwu is a greater distance than that between the north and south pole, although the distance was not covered using the same crew, nor the same engine. (enlarge photo)

The train's 40 shipping containers carried goods including spinning tops for children and cutting tools. It will return to China in the New Year with wine, olive oil and cured ham.

Related world records:
High reach pantograph: world record set by Stone India

Most Ships Inaugurated in One Day: Viking River Cruises breaks Guinness world record (VIDEO)

Safest car: Volvo V40 sets world record (VIDEO)

Most people crammed on a bus: Polish students set world record (Video)

First Bus for Hangovers: Hangover Heaven Bus sets world record (PICS & HD Video)

First Flying Car: The Transition by Terrafugia sets world record (Video)

Most vehicles to break through ice: Wisconsin fishing event sets world record (Video)

First car with a wood burning stove: Pascal Prokop sets world record (Video)

Longest bumper car marathon: Sylvia Wayfer (Video)

First carbon-composite passenger jet: Boeing 787 Dreamliner (HD Video)

Largest Car Wash: CARSTAR sets world record (Video)

Most popular car color: Silver - 2010's most popular car color

Longest rail tunnel - The Gotthard Base Tunnel sets world record

Longest traffic jam: 60-mile, 11-day Chinese traffic jam sets world record

First Flying Car - The Terrafugia Transition sets world record

Most attempts to pass driving test - Cha Sa-soon

Shortest funicular railway: Angels Flight

Largest passenger plane: Airbus A380

Largest passenger plane-world record set by Airbus A380