Tuesday, February 28, 2012

Most vehicles to break through ice: Wisconsin fishing event sets world record (Video)

OSHKOSH, WI, USA--36 vehicles broke through the ice on Lake Winnebago, during an ice fishing contest , setting the world record for the Most vehicles to break through ice, according to World Record Academy: www.worldrecordacademy.com/.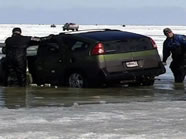 (enlarge photo)

The Guinness world record for the most vehicles to run over the stomach was 9 achieved by Tom Owen (USA) on the set of Lo Show Dei Record, in Milan, Italy.

Guinness World Records also recognized the world record for the largest ever ice fishing competition, which took place on Lake Ponnenjärvi, Töysä, Finland with 26,462 participants.

Organizers of the Battle on the Bago, an annual ice fishing competition on Lake Winnebago, said participants were warned against parking on the ice, but some did it anyway because they could not find anywhere else to leave their vehicles, the Milwaukee Journal Sentinel reported.

Winnebago County sheriff's officials say the vehicles were parked too close together and collectively were too heavy for the ice at the Battle on Bago tournament. Some vehicles were submerged, others were partially submerged.

The ice was roughly one-foot (91cm) thick where the cars broke through on Saturday. Authorities had warned competitors about the dangers of parking on the lake.

Mild temperatures led to numerous vehicles to fall through the ice and into the water, because the 12 inches of ice couldn't hold up the weight of them parked side-by-side.

Tournament organizers had tried to discourage parking on the ice, but the large turnout left many people opting for a spot on the frozen lake near shore.

"It was a surprise that many people chose to park there but not a surprise what happened," Art Dumke, a tournament co-organizer, told FOX 11 in Green Bay.

Luckily for their owners, the water was not too deep where the cars went through the ice and they were able to be towed out, the Milwaukee Journal Sentinel reported.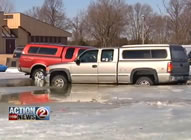 (enlarge photo)

The water was shallow where the cars fell through and they were removed with two trucks.

The sheriff's department said four vehicles were submerged more than half way while 18 went partially under the water and 14 others only sank to the tops of their wheels.

Some fishermen might need to use any money they won to buy a new car. Officials say several appeared to be totaled.

"When you park that many cars on that thin of ice, it's going to be a party wrecker," said Dumke.

"The ice conditions we've seen so far on the Great Lakes have been remarkably unpredictable," said Capt. Steve Torpey, chief of response for the 9th Coast Guard District.

"The relatively warm weather has made for some particularly treacherous situations, and we were very lucky there were no human tragedies in either of these incidents."

The Coast Guard wants to remind the public to make a serious investment and commitment to ice safety on the Great Lakes, since varying levels of ice thickness are common on the Great Lakes.

If people do choose to go on to the ice, however, they should remember the acronym I.C.E. — Intelligence, Clothing, Equipment.
Intelligence: know the weather and ice conditions, know where you're going, and know how to call for help
Clothing: have proper clothing to prevent hypothermia; dress for the water temperature, not the air temperature Equipment: have proper equipment: marine radio, life jackets, screw drivers/ice picks, etc.

Related world records:
First car with a wood burning stove: Pascal Prokop sets world record (Video)

Most people crammed into a Mini Cooper: Eastbourne fundraisers sets world record

Longest bumper car marathon: Sylvia Wayfer (Video)

First carbon-composite passenger jet: Boeing 787 Dreamliner (HD Video)

Largest Car Wash: CARSTAR sets world record (Video)

Best selling two-seat sports car: Mazda MX-5

Most People Crammed in a BMW Mini: Dance company

Most popular car color: Silver - 2010's most popular car color

Most People Crammed Into A Smart Car: Female students

Oldest driver - Verna Truax

Longest rail tunnel - The Gotthard Base Tunnel sets world record

Most cars washed by a school: Bloomington High School South

Longest traffic jam: 60-mile, 11-day Chinese traffic jam sets world record

First Flying Car - The Terrafugia Transition sets world record

Most attempts to pass driving test - Cha Sa-soon

Most toys on a car: Bruce Mitchelson

Tuesday, February 28, 2012 12:04 PM