Friday, March 26, 2010
Most Indoor Rugby Tackles in One Hour - Maidenhead Rugby Club sets world record

MAIDENHEAD, Berkshire, UK -- 40 boys from Maidenhead Rugby Club's under 16s team completed more than 8,762 rugby tackles in an hour while raising money for their tour to South America as well as Sport Relief - setting the new world record for the Most Indoor Rugby Tackles in One Hour.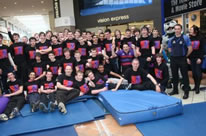 (enlarge photo)

The previous Guinness Book of World Records record for this event outdoors is 4130 tackles. On the 31 May 2009, The Nottingham Boots rugby team beat this record with 4489 but in June 2009, New Zealand teams from Wellington & Poneke amassed a total tackle count of 4852, though this is yet to be validated.

In a bid to capture public attention, they completed the challenge in the middle of the shopping centre instead of their pitches in Braywick Road.

The players were also joined by members of the London Irish Community Team who brought along their mascot Digger, to support the boys.

Many shoppers offered their support to the team with cheers and donations. The contest was officially opened by Maidenhead MP Theresa May at 12midday.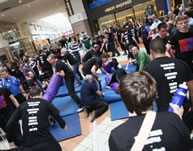 (enlarge photo)

Abiding by World Record rules, two independent invigilators from the Berkshire Referees Association attended to measure the course and act as official counters whilst the attempt was both videod and photographed.

Subscribe to our RSS News feed to receive updates.

Related world records: Sport world records
Most consecutive volleyball passes - Triangle Volleyball Club sets world record

Most Birdies in 12 Hours - world record set by Alexander Sandeman

Most Golf Balls Hit in 12 Hours - world record set by Nigel Mangan

Longest football throw-in - world record set by Danny Brooks

Friday, March 26, 2010