Saturday, May 1, 2010

Largest 3-on-3 basketball tournament - Spokane Hoopfest sets world record

SPOKANE, Wash., USA -- The Spokane Hoopfest Association hosted last June their annual 3-on-3 street basketball tournament which included 26,656 players on 6,725 teams - setting the new world record for the Largest 3-on-3 street basketball tournament.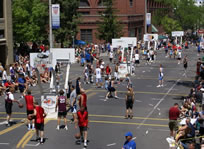 Photo: The World's Largest 3-on-3 street basketball tournament:6,725 Teams, 26,656 Players, 14,000 Games, 200,000 Fans, 428 Courts, 40 City Blocks, 3,000 Volunteers.
(enlarge photo)

First started in 1990, Hoopfest, the Largest 3-on-3 street basketball tournament in the world, has grown to become the largest 3-on-3 street basketball tournament and family festival of its kind in the world.

With the generous support of the City of Spokane, many wonderful sponsors, and over 3,000 dedicated volunteers, Hoopfest has grown into an unparalled event that is cherished by the Inland Northwest.

In winning the 2003 Agora Award for Business Excellence, the judges said the following about Hoopfest: "No other single event (here) brings together people of such diverse cultures, economic conditions, and ages for a common purpose. And this common purpose is not just basketball. It is cheering for one another, working together, competing fairly, and celebrating Spokane."

Hardly an original idea — 3-on-3 basketball tournaments have been around for decades — Hoopfest has grown unlike any other.

The World's Largest 3-on-3 street basketball tournament is unique among sports events. It is one thing to hold a single-site basketball tournament for thousands of teams. It is another to have a street festival that attracts roughly 200,000 people.

The basics go something like this: Teams sign up months in advance. Teams give themselves names meant to amuse, confuse, titillate, intimidate or advertise.

One intriguing first-round match featured Tom Selleck's Moustache versus Cocoa and His Butter. Grade schoolers love names including "hoopsters." Teenagers prefer "ballerz," using a "z" wherever an "s" would suffice.

Young adults often incorporate Spokane's 509 area code to brand themselves with street cred. Older players like self-deprecating monikers, like Dormant Muscle or Wounded Knees.

Teams are divided into brackets, usually 16 teams each, by age, skill level, gender (there are co-ed teams, too) and (sometimes) height. About half of the players are children.

On Friday night, streets are shuttered and some of the event's 3,000 volunteers measure and mark courts with eight miles' worth of shiny highway tape — yellow for boundaries, white for the key, take-back line and 3-point line, which is actually a 2-point line, because baskets are worth 1 and 2 points, not 2 and 3.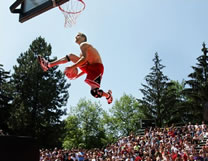 Photo: Steve Merrill of Bonners Ferry, Idaho, prevailed in the dunk contest at the 20th annual Hoopfest. Photo by Rajah Bose for The New York Times (enlarge photo)

Basketball standards, stored in a warehouse outside of town, are arranged by forklifts according to the sponsor logo tattooed on each backboard.

Players converge from just about every state and several countries. Teams create their own uniforms. Tie-dye is popular.

Each bracket is assigned a court. Each court is assigned a monitor who oversees the action and settles disputes if the teams cannot. Only the elite brackets and children — who, surprisingly, do not tattle much when asked to call fouls on others — have referees.

Teams play a double-elimination tournament to determine the winner of each bracket. T-shirts are awarded. The power of such booty should not be underestimated.

"The prize is really bragging rights," Rick Betts, a Hoopfest co-founder, said. "And wearing your T-shirt around."

Each participant receives a T-shirt, declaring him or her a "player." Bracket champions and runners-up get shirts proclaiming their success.

But the Loser King shirt may be the most coveted of them all. They go to the 13th-place finisher, a team that lost its first two games but won the consolation rounds. Teams have been known to intentionally lose twice for the right to earn one.

Links: Spokane Hoopfest on Facebook
Visit their website at www.SpokaneHoopfest.Net

Nearly 800 teams have registered for the 2010 tournament, which is well ahead of last season's registration. Hoopfest organizers are urging teams to get their registrations in by the guaranteed registration date of May 3, 2010.

Subscribe to our RSS News feed to receive updates.

Related world records:
Best 10-Year-Old Basketball Player - world record set by Jaylin Fleming

Most free throws in two minutes - world record set by Bob Fisher

Most free throws in one hour-world record set by Mike Campbell

Longest basketball game-world record set by Sibiu players

Most people dribbling a basketball

Saturday, May 1, 2010