Tuesday, June 5, 2012

Youngest MD: 21-year-old Sho Yano sets world record (PICS & Video)

Chicago, IL, USA -- Sho Yano, who was reading at age 2, writing at 3 and composing music at 5, will graduate this week from the Pritzker School of Medicine, here he also received a Ph.D. in molecular genetics and cell biology - setting the new world record for the Youngest MD, according to the World Record Academy: www.worldrecordacademy.com/.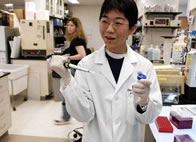 Photo: Sho Yano, who is graduating this week, is the youngest student to ever receive an MD degree from the University of Chicago.
(enlarge photo)

The Guinness world record for the oldest stem cell donor was set by Erica Henderson (UK) who, at 74 years of age, donated cells to treat her younger brother Paul, 69, who suffered from leukaemia.

Guinness World Records also recognized the world record for the most vaccinations given in eight hours: 12,850 flu shots, which were administered by Vanderbilt University and Medical Center in Nashville, Tennessee, USA.

Yano earned his undergraduate degree from Loyola University at age 12, finishing in three years and graduating summa cum laude, the Chicago Tribune reported.

The average age of students entering medical school in the U.S. is 23, and there were schools that refused Yano admittance because of his age.

School officials worried that the rigors of medical school would hinder Yano's ability to have a normal adolescence.

"I never understood that," Yano said. "Why would being allowed to challenge yourself be considered more damaging than being totally bored?"

Born in Portland, Ore., Sho Yano, 21, has an IQ above 200 and spent most of his early years in California — attending the Mirman School for Gifted Children in Los Angeles for a few years and getting home-schooled by his mother.

Genius, seemingly, runs in the Yano family. His sister, Sayuri, is his only sibling, also a prodigy and his closest confidante.
After receiving a bachelor's degree in biology from Roosevelt University in 2010, the 15-year-old is now at Johns Hopkins University in Baltimore, pursuing a second bachelor's degree in violin performance.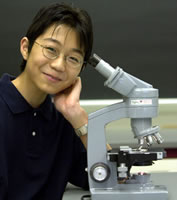 Photo: Sho, pictured as a 12-year-old in his first year at medical school, has graduated at the age of 21. Photo: AAP (enlarge photo)

The school made some accommodations because of Yano's age. Unlike most students, who begin their Ph.D. training after their second year of medical school, Yano began his after his first year.

That way, he was about 18 when he began his second year of studies toward his M.D., which includes interacting with and examining patients.

He is currently preparing for his residency in pediatric neurology, in which he became interested while doing a rotation at LaRabida Children's Hospital in Chicago.

"I really liked not just taking care of kids, but the way the whole team worked together," he said.

He said, "I am living my dream."

Related world records:
First 3D printed jaw transplant: 83-year-old woman sets world record (Video)

Most medical board certifications: Dr. Xiulu Ruan sets world record (PICS)

Largest Kidney Donor Chain: National Kidney Registry sets world record
First dolphin with a prosthetic tail: Winter the dolphin sets world record (Video)

First esophagus transplant: Alannah Shevenell sets world record (Video)

First Heartless Man: Craig Lewis sets world record (Video)

Oldest Surgery Patient: 100-year-old patient

Longest Day at the Optician: Teignmouth Specsavers sets world record

Most breast augmentation surgeries performed: Ted Eisenberg (Video)

Most whole blood donations: Phil Baird

Oldest Practicing Doctor: Dr Walter Watson

Most eye operations: Tatyarao Lahane

Most kidney stones removed from a patient: Dr. Ashish Rawandale

Monday, November 4, 2013 11:23 AM