Tuesday, February 21, 2012

Largest Kidney Donor Chain: National Kidney Registry sets world record

RIVERSIDE, CA, USA--The world's largest kidney donor chain has been completed in the US, with 30 patients receiving a kidney from 30 living donors, through the National Kidney Registry, according to World Record Academy: www.worldrecordacademy.com/.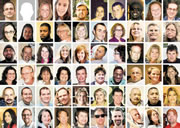 Photo: A donation by a Good Samaritan, Rick Ruzzamenti, upper left, set in motion a 60-person chain of transplants that ended with a kidney for Donald C. Terry Jr., bottom right. (enlarge photo)

The Guinness world record for the Oldest kidney transplant patient was set by Carroll Basham (USA) who had a kidney transplant operation aged 77 years 185 days at the Methodist Specialty and Transplant Hospital, San Antonio, Texas, USA.

Guinness World Records also recognized the world record for the largest kidney; it weighed 1.8 kg and measured 30 x 13 x 10 cm (11.81 x 5.12 x 3.94 in). It was removed from Mst. Waziran Malah (Pakistan) by Dr. Abdul Rasheed Shaikh at the Chandka Medical College Hospital, Larkana Sindh, Pakistan.

The World's Largest Kidney Donor Chain linked a number of people who wanted to donate an organ to a loved one but were unable to because they were not a clinical match.

The domino chain of transplants took place over four months and involved 17 hospitals across 11 states.

It began with Rick Ruzzamenti, a 44-year-old from Riverside, California, who decided on impulse that he would donate a kidney to a stranger.
It ended with Donald C Terry Jr, from Joliet, Illinois, who was dying of renal failure and had no family either willing or able to donate a kidney to him.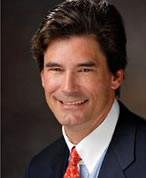 Photo: THE FOUNDER Garet Hil formed the National Kidney Registry after his daughter became ill.
(enlarge photo)

What made the domino chain of 60 operations possible was the willingness of a Good Samaritan, Mr. Ruzzamenti, to give the initial kidney, expecting nothing in return - The Huffington Post reports.

Rick Ruzzamenti was the first link in the longest such chain so far -- known in this case as chain No. 124, as The New York Times first reported, a stranger who began a domino effect of generosity spanning across the country.

Ruzzamenti gave his kidney to someone whose family couldn't provide a match and the family member who was not a match in this circumstance was a match for Brooke Kitzman from Michigan.
And so it went, on and on, as strangers bound together through common circumstances gave and received kidneys as part of a chain started by a man who had no specific attachment to the cause.

There was the ex-boyfriend who saved his ex-girlfriend and the old prom dates from Queens, N.Y -- Gregory Person donated his kidney so Zenovia Duke could get a kidney from Samantha Hendon in Porterville, Calif.

Husbands donated for wives, children for parents, a nephew for an uncle and a mother-in-law for her daughter's husband. The kidneys travelled across the United States, from coast to coast, in specially iced cardboard boxes fitted with GPS tracking devices on commercial airlines.

The mastermind behind it all is Garet Hil, an ex-Marine with an MBA and his own company, who every day before dawn orchestrates the blood types, the profiles and the logistics of the most three dimensional kidney chain ever tried.

Hil says a singular event inspired him to start a kidney registry: When his then 10-year-old daughter needed a kidney they went through 15 different possible matches until she finally got what she needed.

There are around 400,000 Americans with kidney failure who currently undergo daily dialysis, and 4,500 die each year while waiting for a transplant.

THE SIXTY PEOPLE IN THE CHAIN FROM RICK TO DONALD

1. Rick Ruzzamenti, 43, California - to - Anonymous, 66, New Jersey
2. Teresa Gavin, 34, New York (Anonymous's niece) - to - Brooke Kitzman, 29, Michigan
3. David Madosh, 46, Michigan (Brooke's ex-boyfriend) - to - Janna Daniels, 31, Pennsylva.
4. Shaun Daniels, 36, Pennsylvania (Janna's husband) - to Mustafa Parks, 24, California
5. Bethany Parks, 22, California (Mustafa's wife) - to - Jeremy Cantrell, 29, California
6. Samantha Hendon, 23, California (Jeremy's friend) - to - Zenovia Duke, 37, New York
7. Gregory Person, 38, N.Y. (Zenovia's friend) - to - Darlene Watkins-Schaefer, 59, Ohio
8. Nicki Watkins, 34, Ohio (Darlene's daughter-in-law) - to - Kelly Diamond, 23, California
9. Denise Heller, 48, California (Kelly's friend) - to - Rhonda Thomas, 49, California
10. Michael Thomas, 52, California (Rhonda's husband) - to - Karen Bowling, 43, Ohio
11. Ryan Bowling, 19, Ohio (Karen's son) - to - Richard Stauffer, 35, Pennsylvania
12. Annamarie Stauffer, 40, Pennsylvania (Richard's sister) - to Paulette Behan, 45, Illinois
13. Sunni Stupka, 42, Mississippi (Paulette's siter) - to - Philip Lindgren, 55, California
14. Susan Lindgren, 56, California (Philip's wife) - to - Danny Giaquinto, 58, New Jersery
15. Debbie Giaquinto, 58, New Jersey (Danny's wife) - to - John Clark, 61, Florida
16. Rebecca Clark, 44, Florida (John's wife) - to - Michael Durr, 60, Florida
17. Gigi Durr, 54, Florida (Michael's wife) - to - Candice Ryan, 56, Maine
18. Michael Ryan, 58, Maine (Candice's husband) - to - Jacki Bruce, 46, Virginia
19. Collin Bruce, 41, Virginia (Jacki's husband) - to - Cesare Bonventre, 27, New York
20. Josephine Bonventre, 40, Canada (Cesare's fifth cousin) - to - Bertha Villa, 40, Califor.
21. Rigo Villa, 39, California (Bertha's husband) - to - Brad Scott, 37, Pennsylvania
22. Jesse Scott, 28, Pennsylvania (Brad's brother) - to - Michael Wilkins, 43, California
23. Tremayne Wilkins, 40, California (Michael's wife) - to - Mary Wilson, 69, Texas
24. Kent Bowen, 47, Texas (Mary's son) - to - Olivo Cienfuegos, 60, California
25. Adrian Cienfuegos, 28, California (Olivo's son) - to - Elva Perez, 49, California
26. Faviola Perez, 34, California (Elva's daughter) - to - Gabriel Baty, 40, California 27. Yvonne Gordon, 62, Calif. (Gabriel's mother-in-law) - to - Steven Dedina, 44, California
28. Andrew Vargas, 26, Texas (Steven's nephew) - to - David Barakat, 31, California
29. Conor Bidelspach, 28, Oregon (David's cousin) - to - Keith Zimmerman, 53, California
30. Sherry Glychowski, 59, Texas (Keith's sister) - to Donald Terry, 47, Illinois

Related world records:
First 3D printed jaw transplant: 83-year-old woman sets world record (Video)
First dolphin with a prosthetic tail: Winter the dolphin sets world record (Video)

First esophagus transplant: Alannah Shevenell sets world record (Video)

First Heartless Man: Craig Lewis sets world record (Video)

Oldest Surgery Patient: 100-year-old patient

Longest Day at the Optician: Teignmouth Specsavers sets world record

Most breast augmentation surgeries performed: Ted Eisenberg (Video)

Most whole blood donations: Phil Baird

Oldest Practicing Doctor: Dr Walter Watson

Most eye operations: Tatyarao Lahane

Most kidney stones removed from a patient: Dr. Ashish Rawandale

Monday, November 4, 2013 11:15 AM