Tuesday, February 7, 2012

First 3D printed jaw transplant: 83-year-old woman sets world record (Video)

LEUVEN, Belgium--Scientists at the University of Hasselt BIOMED Research Institute in Belgium developed a custom made lower jaw transplant, using a prosthetic jaw made by LayerWise on a 3D printer; an 83 year-old Belgian woman has become the first-ever person to receive a transplant jawbone tailor-made for her face; the surgery took place at the Orbis Medisch Centrum in Sittard-Geleen , setting the world record for the First 3D printed jaw transplant, according to World Record Academy (www.worldrecordacademy.com)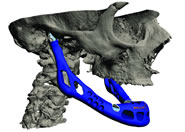 .

Photo:
(enlarge photo)

The Guinness world record for the earliest successful full face transplant was performed by a team of doctors from the Vall d''Hebron University Hospital, Barcelona, Spain.

Guinness World Records also recognized the world record for the First jawbone transplant, set by a team of ten surgeons who carried out an 11 hour operation to transplant a jawbone into an 80-year-old patient diagnosed with oral cancer at the Istituto Regina Elena, Rome, Italy.

An 83-year-old Belgian woman underwent the operation last June, after suffering from an infection that rapidly ate away her jaw.

In order to keep breathing, chewing, talking and feeling in her jaw, the patient had no option other than the complete removal of her mandible (lower jaw).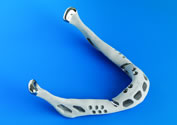 (enlarge photo)

Scientists at the University of Hasselt BIOMED Research Institute in Belgium developed a custom made implant using 3D printing of titanium powder.

The reconstruction – postprocessed with dental suprastructure provisions, polished joint surfaces and a bioceramic coating – has been implanted successfully. It restored the patient's facial esthetics and allowed her to regain her speech within hours.

The revolutionary patient‐specific implant has been developed and produced under supervision of Prof. Dr. Jules Poukens, in collaboration with specialized industrial and academic parties in Belgium and The Netherlands (see list below).

The design, processing and production of the implant were all done digitally, and the implant was ready in just a couple of hours.

Weighing 107 grams, the prosthetic jaw was just a bit heavier than a natural lower jaw, but to no disadvantage. The implant was coated with "artificial bone" and polished, fitting the patient perfectly.

The new method has been developed by the Biomed research group of the University Hasselt (B) in collaboration with engineers from the Xios Hogeschool (B), Xilloc Medical BV (NL) and University Leuven and maxillofacial surgeons from the Orbis Medisch Centrum Sittard‐Geleen (NL).

LayerWise NV (B) produced the implant structure, which was coated with a bioceramic coating by Cam Bioceramics BV (NL).

Dr. ir. Peter Mercelis, Managing Director of LayerWise: "Besides a successful track record in industrial sectors, metal AM is gaining importance in medical implantology. AM's freedom of shape allows the most complex freeform geometries to be produced as a single part prior to surgery."

"As illustrated by the lower jaw reconstruction, patient‐specific implants can potentially be applied on a much wider scale than transplantation of human bone structures and soft tissues. The use of such implants yield excellent form and function, speeds up surgery and patient recovery, and reduces the risk for medical complications."

"Computer technology will cause a veritable revolution in the medical world. We just need to learn to work with it," Dr. Jules Poukens, University professor and part of the development team, said in a written statement.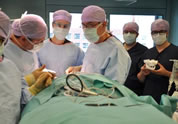 (enlarge photo)

"Doctors and engineers together around the design computer and the operation table: that's what we call being truly innovative."

The Team
Medical : Prof. Dr. Jules Poukens, Dr. Ingeborg van Kroonenburgh, Dr. Richard Barkhuysen – Maxillofacial Surgeons of Orbis Medisch Centrum Sittard‐Geleen
Case Preparation : Ing. Maikel Beerens, Dr. ir. Michäel Daenen, Dr. ir. Peter Mercelis and ir. Ruben Wauthlé, ir. Carsten Engel, Prof. Dr. Jules Poukens, Dr. Ingeborg van Kroonenburgh, Prof. Dr. Jos Vander Sloten
Ing. Maikel Beerens
Manufacturing: Dr. ir. Peter Mercelis and ir. Ruben Wauthlé (LayerWise NV), Cam Bioceramics BV and Ing. Maikel Beerens (Xilloc BV)
Histology : Prof. dr. Jules Poukens, Prof. Dr. Ivo Lambrichts
Dental components / suprastructure : Dr. Frank Schnabel, LayerWise NV – DentWise division

Related world records:
First esophagus transplant: Alannah Shevenell sets world record (Video)

First Heartless Man: Craig Lewis sets world record (Video)

Oldest Surgery Patient: 100-year-old patient

Longest Day at the Optician: Teignmouth Specsavers sets world record

Most breast augmentation surgeries performed: Ted Eisenberg (Video)

Most whole blood donations: Phil Baird

Oldest Practicing Doctor: Dr Walter Watson

Most eye operations: Tatyarao Lahane

Most kidney stones removed from a patient: Dr. Ashish Rawandale

Largest Breast Implants: Sheyla Hershey

Tuesday, February 7, 2012