Monday, May 14, 2012

Most medical board certifications: Dr. Xiulu Ruan sets world record (PICS)

MOBILE, AL, USA -- Xiulu Ruan, MD, a fellowship trained, multi-boarded pain management specialist, has achieved 7 medical board/subspecialty board certifications in the United States , setting the world record for the Most medical board certifications, according to the World Record Academy: www.worldrecordacademy.com/.


Photo:
Dr. Xiulu Ruan
(enlarge photo)

The Guinness world record for the oldest practising doctor was set by Dr. Walter Watson (USA), aka "Papa Doc", an obstetrician who was born in 1910 and was still practising at University Hospital in Augusta, Georgia, USA in May 2010 at the age of 100.

Guinness World Records also recognized the world record for the largest ambulance; it is operated by the Dubai Government's Centre of Ambulance Services, which measures 20.03 m (65.71 ft) designed by Dr. Martin von Bergh of Global Medical Consulting, with a total treatment and transport capacity of 123 patients and staff.
The world's largest ambulance was assembled by the company Gebr. Heymann GmBH and equipped by Cytomed Middle East. The ambulances consist of an operating theatre, three intensive care units and eight immediate care units.

Dr. Xiulu Ruan attended the Shandong Medical University (formerly Medical School of QiLu University), from 1982 to 1988. He came to US in 1989, attended graduate school at LSU, Baton Rouge and received his Master of Natural Sciences in 1993.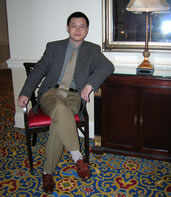 (enlarge photo)

"To me, the practice of medicine is not just a profession, but a life-long commitment that calls for dedication to excellence. This dedication has led me to pursue an added measure of expertise via board certifications," Dr. Xiulu said.

His formal medical training in the US includes an internship in the Department of Medicine, Worcester Medical Center, Worcester, MA; Residency training in the Department of Physical Medicine & Rehabilitation in Medical College of Wisconsin Affiliated Hospitals, Milwaukee, WI; Clinical Interventional Pain Management Fellowship training in the Department of Anesthesiology, University of Michigan Medical Center, Ann Arbor, MI.

Ruan was fortunate to be the 1st non-anesthesiology physician recruited as a Clinical Interventional Pain Fellow by the Department of Anesthesiology of University of Michigan Medical Center.

Dr. Xiulu Ruan has achieved 7 medical board/subspecialty board certifications in the United States:
# Diplomate, American Board of Pain Medicine;
# Diplomate, American Board of Physical Medicine & Rehabilitation;
# Diplomate, American Board of Interventional Pain Physicians;
# Diplomate, American Board of Electrodiagnostic Medicine;
# Diplomate, American Board of Addiction Medicine;
# Diplomate, Subspecialty of Pain Medicine by American Board of Physical Medicine & Rehabilitation;
# Diplomate, Subspecialty of Neuromuscular Medicine by American Board of Physical Medicine & Rehabilitation;
# Fellow, Interventional Pain Practice, World Institute of Pain.

Board certification is the process by which a physician (M.D. or D.O.), dentist (DDS or DMD), pharmacist (Pharm.D.), or podiatrist (DPM) in the United States demonstrates through either written, practical, and/or simulator based testing, a mastery of the basic knowledge and skills that define an area of medical specialization.

Physicians seeking board certification in a given area of specialty must successfully complete and pass an examination process designed to test their mastery of the minimum knowledge and skills contained in the core competency document.
Prior to taking the examination, a physician must graduate with a degree, either MD or DO, and meet all other prerequisites to certification as set out by the certifying agency or "board."

"My career goal is to become that physician, in the history of United States, who has achieved the most medical board/sub-specialty board certifications of all time; and be able to translate what I have learned into best patient care," Dr. Xiulu Ruan said.

Related world records:
Medical world records

First 3D printed jaw transplant: 83-year-old woman sets world record (Video)

Largest Kidney Donor Chain: National Kidney Registry sets world record
First dolphin with a prosthetic tail: Winter the dolphin sets world record (Video)

First esophagus transplant: Alannah Shevenell sets world record (Video)

First Heartless Man: Craig Lewis sets world record (Video)

Oldest Surgery Patient: 100-year-old patient

Longest Day at the Optician: Teignmouth Specsavers sets world record

Most breast augmentation surgeries performed: Ted Eisenberg (Video)

Most whole blood donations: Phil Baird

Oldest Practicing Doctor: Dr Walter Watson

Most eye operations: Tatyarao Lahane

Most kidney stones removed from a patient: Dr. Ashish Rawandale

Tuesday, March 1, 2016 3:35 PM