Thursday, April 14, 2011

Largest water pistol fight: Thailand breaks world record (HD Video)

BANGKOK, Thailand -- With 3,471 participants spraying each other for 10 minutes, Bangkok's Central World Shopping Plaza and the Bangkok Metropolitan Administration sets the new world record for the Largest water pistol fight.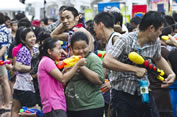 Photo: In an attempt to break the Guinness world record, a crowd of 3,477 participated in the water pistol fight for 10 minutes in the Thai capital. AP Photo (enlarge photo)

The previous Guinness world record for the largest water pistol fight was 2,671 participants for an event organised by the Coordinadora de Peñas de Valladolid (Spain) in Valladolid, Spain.

Guinness World Records also recognized the largest water balloon fight: 3,927 participants at an event organised by Brigham Young University in Provo, Utah, USA.

The street of Khao Sarn, a well-known area for foreign backpackers, was turned to water battlefield ahead of Thai New Year "Songkran", a week-long "big splash" festival.

Silom Road, the main artery of the central Business District in Bangkok, was blocked off by revellers who were equipped with either plastic supersoakers or buckets of water.

Tourists flocked to the area as well to get in on the fun - and to cool off during the hottest time of the year.

Splashing water at other revellers traditionally serves as a symbol of cleansing and washing away the sins of the old year.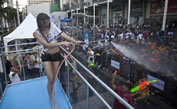 Photo: A Thai model and others engage in battle with water guns in an attempt to set a world record for Largest water pistol fight during Thai New Year celebrations in Bangkok. AP / David Longstreath (enlarge photo)

Songkran is also a time for people to show their respect for their elders and for monks, so many of the revellers start the festival celebration by visiting temples.

Bangkok Governor Sukhumbhand Paribatra, who chaired the event, which was also witnessed by ambassadors of Kenya, Cuba, Singapore and Pakistan to Thailand, said that the successful attempt reflected the unity of Thai people through a unique cultural display during the annual traditional Thai New Year festivity.

The Thai New Year, known as Songkran, begins on April 13 and last three days, although local celebrations can begin sooner and end later, according to a report in The Nation.

Related world records:
Largest custard pie fight: Drake University (HD Video)

Largest custard pie fight: Kidz Stuff festival

Largest tomato fight: La Tomatina

Largest Toy Pistol Fight: Washington University

Largest water balloon fight: BYU students

Thursday, April 14, 2011