Thursday, June 30, 2011

Largest Human Olympic Rings: UK school kids sets world record (Video)

GUILDFORD, Surrey, UK -- To celebrate World Olympic Day and the 400 day countdown to the London 2012 Games, Surrey County Council gathered 1,852 people (school kids from George Abbot School, Team GB athletes) who formed the human Olympic rings on the George Abbot School playing field , setting the world record for the Largest Human Olympic Rings.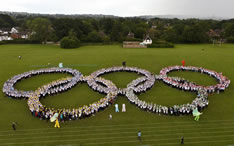 Photo: The World's Largest Human Olympic Logo. Photo by: Ian Leslie/High Level Photography (enlarge photo)

World Record Academy recognized the previouds world record, set in Beijing, China, which featured 1,202 people.

The Guinness world record for the Largest TV audience for an Olympic Games was set during Beijing Olympics in China: it drew the largest television audience in the history of the Olympic Games, with 4.7 billion people across the globe tuning in to the spectacle.

Guinness World Records also recognized the largest total of medals awarded at one Olympic Games: 958 (comprising 302 golds, 303 silvers and 353 bronzes), which were awarded at the 2008 games held in Beijing, China.

The children were joined in the record bid by Team GB athletes including Rachel Cawthorn (kayaking), Abigail Edmonds (kayaking), Sophia Warner (athletics) and Adelle Tracey (athletics) as well teachers and councillors from Surrey County Council.

The world record attempt event also celebrated the final day of Surrey County Council's P&G Surrey School Games 100 days of sport, which has seen 3,500 children compete in a wide variety of sports including mountain biking, motor racing, athletics and hockey.

Olympic mascots Wenlock and Mandeville and 1948 Surrey Olympic torch bearer Austin Playfoot attended the celebrations.

Denise Saliagopoulos, Surrey County Council's Cabinet Member for Community Services and the 2012 Games, said: "It was fantastic to see so many children making a piece of Olympic history. There was a thrill of excitement in the air during the build up and it was spectacular to see everyone forming the Olympic rings."

Photo gallery:
World's Largest Human Olympic Rings

"It started to rain just as the record was broken but it certainly didn't dampen the spirits. There were smiling faces everywhere you looked."

"I hope today's event will encourage more children to get involved in sport. By doing this we can help them stay healthy throughout their lives. Taking part in competition also teaches young people that through hard work and dedication they can achieve their goals."

The new world record was sponsored by Procter & Gamble UK.

Related world records:
Largest Human DNA Helix: Genentech (HD Video)

Largest human Olympic logo: China

Largest human cross: Manila students

Largest Human Smiley Face: Baltimore

Largest human peace sign: the Ithaca Festival

Largest human smiley face: Orlando

Largest Human Ribbon: Fort Knox

Thursday, June 30, 2011