Monday, May 9, 2011

Largest Human DNA Helix: Genentech set world record (HD Video)

SAN FRANCISCO, CA, USA, -- 2640 employees at Genentech's headquarters in San Francisco and their guests, including U.S. Rep. Jackie Speier, D-San Mateo, gathered to form the world's Largest Human DNA Helix.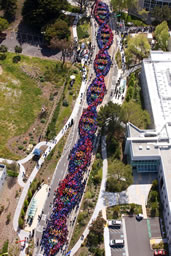 Photo: World's Laregst Human DNA Helix
(enlarge photo)

The Guinness world record for the largest model of DNA measured 25.66 m (84 ft 2 in) in height and was created by the Garvan Institute of Medical Research (Australia).

Guinness World Records also recognized the Oldest extracted human DNA: a team of French and Belgian researchers have extracted DNA from the tooth of a Neanderthal child who lived in the Meuse Basin, Belgium, around 100,000 years ago.

Organized by Genentech, Inc., a biotechnology company that produces research in fields such as oncology, immunology, and neuroscience, the world record attempt was set up as a team-building activity for their employees.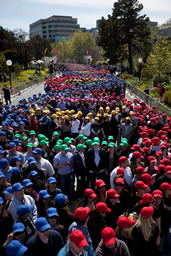 (enlarge photo)

Wearing colored hats to differentiate the two intertwining strands and other parts of DNA, the participants stood atop of an outline that had been drawn on the ground in chalk so that shape and order of the DNA helix was 100 percent accurate, with event organizers checking that the strand formation intertwined in the right direction.

Once all employees were counted and positioned, they had to stand in place for a minimum of ten minutes in order to meet Guinness World Records guidelines. A Guinness World Records judge viewed the helix from a rooftop while two helicopters circled above the crowd to get aerial shots.

A total of 2,640 Genentech, Inc. employees -- most of them scientists -- took part in the attempt, successfully claiming the world record title of creating the world's largest DNA helix.

Related world records:
Largest human Olympic logo: China

Largest human cross: Manila students

Largest Human Smiley Face: Baltimore

Largest human peace sign: the Ithaca Festival

Largest human smiley face: Orlando

Largest Human Ribbon: Fort Knox

Monday, May 9, 2011