Thursday, May 26, 2011

Most powerful 'Magnet Boy': Ivan Stoiljkovic sets world record (Video)

KOPRIVNICA, Croatia -- Six-year-old Ivan Stoiljkovic is able to attract metal to his chest - including silverware, coins and even a frying pan; can carry up to 55 pounds of metal on his torso , setting the world record for the Most powerful 'Magnet Boy'.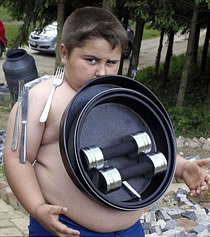 Photo: Ivan is unusually strong and is able to lift cement bags weighing 50lbs, and here carries dumbbells inside metal trays on his chest. Photo: Rex (enlarge photo)

The Guinness world record for Conducting electricity - fastest time to boil water through body was set by Slavisa Pajkic 'Biba' (Yugoslavia) was able to heat a 15 ml (0.5 fl oz) cup of water from 25 °C to 97 °C (77 °F to 206 °Fin a time of 1 min 37 sec.

Guinness World Records also recognized the world record for the the most spoons balanced on the face: 17, achieved by Aaron Caissie (Canada).

His family says Ivan possesses extraordinary strength and even healing powers.

"We always felt he is a bit different," said Ivan Surlovic, the boy's grandfather. "

"At 15 months of age he was rollerblading, he started walking at eight months. He was less then two years when he had already been driving a little motorcycle, and it was a bit weird," Surlovic said.

Ivan practices his magnetic skill every day, usually with his grandparents.
"It started as a joke," said Dragica Surlovic, Ivan's grandmother. "I said, let's try this and things just stuck to him. The heavier things actually stuck more strongly to him."

His family says that Ivan's power is strongest in the morning and when he is calm and focused.

His upper body appears to be more magnetic and his family says his wounds heal very quickly and leave no scars.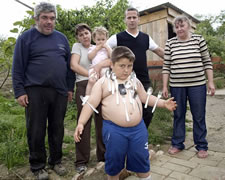 Photo: Six-year-old Croatian boy Ivan Stoiljkovic is able to stick metal objects to his body, while his family also claim he has extra strength and healing powers. (enlarge photo)

Ivan, it is also claimed, is much stronger than other children his age and is able to easily carry bags of cement as heavy as 50lbs.

Family members told Reuters that Ivan also has "healing hands" with which he alleviates his grandfather's stomach pains and has soothed the pain of a neighbor who hurt his leg in a tractor accident.

"They claim they have to keep him away from computer or it will stop working," said anchor Natalie Morales, who struggled to speak through an uncontrollable bout of the giggles. "The poor kid, that's a hard thing to live with."

So far, doctors have offered no explanation for the seemingly healthy boy's apparent magnetism, which affects no other members of his family.

Related world records:
Most powerful Human Magnet: Aurel Raileanu

Fastest Human Calculator: Alexis Lemaire

Most powerful Human Magnet: Aurel Raileanu

Memory World Record: Ben Pridmore

Quickest human calculator: Chen Ranran

Thursday, May 26, 2011