Most powerful Human Magnet-world record set by Aurel Raileanu

[Sep 20] BUCHAREST, Romania -- Aurel Raileanu, a hospital worker has set the world record for the most powerful Human Magnet-he can lift a 57.320 lbs. (26kg) TV set.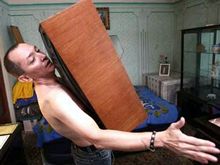 Aurel Raileanu, known as The Human Magnet for his extraordinary ability, can even make a 57.320 lbs TV set cling to his chest without the aid of wires, blue or string.

The 40-year-old bachelor, who lives with his mum, claims he doesn't know how he becomes a magnet for objects.

But he explains that first he focuses his mind on something, then releases the feeling of magnetic attraction that makes even the heaviest item stick to him.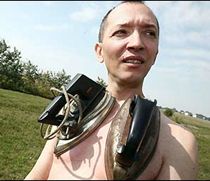 He can pick up electric irons using just his skin's bizarre ability — and he can clear a table of cutlery faster than an army of waiters.

Aurel Raileanu admits he cannot explain his gift, which allows many objects — not just metal — to stick to his chest, neck and forehead.

He says: "I tend to keep it secret from people in my home town because I am afraid of being branded a freak in their eyes.
LINDSAY LOHAN - LOHAN TO TAKE MAGNETISM LESSONS

Daily Times, Pakistan: 'Magnet Man' heals the sick

Digital Spy, UK: Lohan learns to be a human magnet

The Sun, UK: i've got glue under my skin

Starpulse.com, CT:
Lindsay Lohan To Take 'Magnetism' Lessons

Now Magazine Online, UK:
Lindsay Lohan wants to be human magnet

TopNews, India
Lindsay Lohan learning how to be a 'human magnet'

Libertatea: 'Au vrut sa arate ca sunt sarlatan'



Fastest single-turbine engine plane


The Perfect Ten- Nadia Comaneci