Wednesday, May 18, 2011

Largest feet: Peter Iroga sets world record (Video)

SYDNEY, Australia -- Solomon Islands native Peter Iroga stands at a towering 7'3" (2.23m) tall and one of his feet measures 38cm and another 37.5cm - setting the new world record for the Largest feet.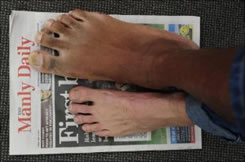 Photo: Peter Iroga, pictured at Foot Power Dee Why, has 40cm shoes. Photo: Simon Chillingworth (enlarge photo)

The Guinness world record for the largest feet belongs to Sultan Kosen from Turkey - who has a 36.5cm left foot and a 35.5cm right foot.

Guinness World Records also recognized the world record for the most people washing their feet: 568, achieved by Parents and Teachers Appreciation Association (Taiwan).

Mr Iroga's large physique is due to an abnormality of the pituitary gland in his brain, causing continual growth of his body.

Later this month he will have an operation to remove a brain tumour stemming from the abnormal gland which he hopes will stop his growth.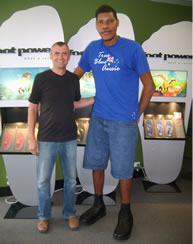 Photo: Foot care professional Richard Hodey (left) with Peter Iroga
(enlarge photo)

Peter Iroga has been in Australia receiving medical treatment for various difficulties associated with his larger-than-life physique, reports The Manly Daily.

A Dee Why orthotics shop stepped in to create customised U.S 22.5 (40cm) medical shoes with orthotics for Mr Iroga - only the second pair he has owned in his life.

"I'm very happy," Mr Iroga said when he first received his new shoes from Foot Power. "I was starting to think it was impossible to get shoes for my size.

"While I was studying in Fiji a few years ago I ordered the biggest possible basketball shoes from America over the internet but even then they were still uncomfortable."

Related world records:
Fattest girl: Suman Khatun (HD Video)

Fattest contortionist: Matt Alaeddine sets world record (Video)

Fattest woman: Terri Smith

Heaviest living woman and heaviest Mum to give Birth: Donna Simpson

Longest beard: Bhai Sarwan Singh

Heaviest man: Paul Mason

Fattest child: Dzhambik Khatokhov

Largest natural breasts: Norma Stitz

Largest Breast Implants: Sheyla Hershey

Longest hair extensions: Alastair Galpin

Longest dreadlocks: Asha Mandela

Most weight lost: Manuel Uribe

Wednesday, May 18, 2011