NEW WORLD RECORD
Most expensive hot dog: The Brockton Roxs set world record (HD Video)

Tuesday, July 27, 2010
Most expensive hot dog - world record set by Serendipity 3
NEW YORK CITY, USA -- In honor of National Hot Dog Day the midtown east ice cream parlor Serendipity III introduced a fancy new menu: the "Haute Dog", a 12-inch frank that sells for $69 , setting the world record for the Most expensive hot dog.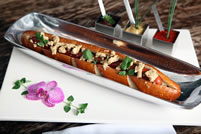 Photo: Restaurant Serendipity 3, which also holds the record for the world's most expensive ice-cream sundae ($1,000) and the largest hot chocolate (four gallons, 15 liters), set its latest record for the World's Most expensive hot dog. Photo: Liz Steger
(enlarge photo)

Trudy Tant, 49, of South Carolina helped cement the record, forking out $69 for the foot-long designer dog.

"It's placed in a pretzel bun that is buttered with white truffle butter and then it's topped with medallion of duck fois gras with black truffles," said chef Joe Calderone.

"It was great. Great flavor," Tant said, who was approached to be part of the record attempt after wandering past the restaurant

The World's Most expensive hot dog is grilled in white truffle oil, placed in a salted pretzel bread bun toasted with white truffle butter, topped with medallions of duck foie gras with black truffles with side condiments of black truffle Dijon mustard, caramelized Vidalia onions and heirloom tomato Ketchup.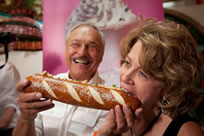 Photo: Trudy Tant of South Carolina bought Serendipity 3's Guinness World Record $69 hot dog. Photo: Kevin Hagen (enlarge photo)

All that can be yours for just $69, but you have to place your order 24 hours in advance to allow time for the "special ingredients" to be flown in fresh.

New York City's Serendipity 3 restaurant has a history of doing stunts to make the Guinness World Records. They've scored twice before -- with the World's Most Expensive Ice Cream Sundae and the World's Largest Hot Chocolate -- and now they did it again with the World's Most Expensive Hot Dog, which will sell for $69.

Every year Americans consume on average 60 hot dogs a year.

Subscribe to our RSS News feed to receive updates. Related world records:
Most Expensive Ham - Manuel Maldonado

Most Expensive Seafood Hamper - The Fish Society

Most expensive Schnitzel - 'Golden Imperial Schnitzel'

Most expensive pot - Fissler's saucepan

Most expensive Burger - Burger King

Most expensive ice cream sundae - Serendipity 3

Most Expensive Watermelon - Densuke watermelon

Most expensive display wedding cake - Dallas Bridal Show

Tuesday, July 27, 2010