Wednesday, April 20, 2011

Longest rice flour pancake (dosa): Vijayawada hoteliers sets world record (Video)

VIJAYAWADA, India -- Vijayawada Hoteliers' Association in Vijayawada got in 30 chefs from different hotels who took an hour to prepare a 38.2 feet long and 1.3ft wide dosa (rice flour pancake) - setting the new world record for the Longest dosa.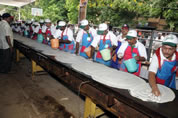 (enlarge photo)

The previous Guinness world record for the longest dosa (rice flour pancake) measured 9.14 m (30 ft) and was prepared by chefs at the Sankalp Restaurant in Andheri, in Mumbai, India.

Guinness World Records also recognized the world record for the largest pancake toss: 405, achieved by Bram Zwiers in the show Mooi! Weer de Leeuw in Almere, Netherlands.

In the presence of Union minister of state for tourism Subodh Kant Sahay and junior HRD minister Daggubati Purandeswari, the chefs successfully prepared the dosa in a specially erected kitchen at PB Siddartha Arts college auditorium.

"We used 25kg of dosa batter ground to perfection for the performance," said Pattabhi Ram, president of the Hoteliers' Association of Vijayawada, which had organised the feat as part of its golden jubilee celebrations.

"To make a good roasted dosa, the heat should spread all over the hot plate," said Subramanian, one of the chefs.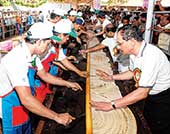 Rolling the dosa was the toughest part: the chefs worked in perfect co-ordination to get it right with three rolls as the batter turned crispy brown.

The hoteliers had been planning this feat for six months now, and there were two trials in the last week that resulted in 25ft and 34ft dosas.

Once the record was broken, it was time for the audience to get a bite of the dosa.

Related world records:
Tallest stack of pancakes: Food Network UK

Tallest pancake stack: Sean McGinlay and Natalie King

Highest pancake flip: Mike Cuzzacrea

Largest pancakes feed: Kiwanis Club

Most pancakes made in one hour: Bob Blumer

Wednesday, April 20, 2011