Tuesday, July 3, 2012

Largest Spritz Celebration: Aperol sets world record (PICS & VIDEO)

VENICE, Italy -- 2,657 people descended on the iconic Piazza San Marco in Venice and joined in the social spirit of Aperol Spritz eager to clink their glasses to make history - setting the new world record for the Largest Spritz Celebration, according to the World Record Academy: www.worldrecordacademy.com/.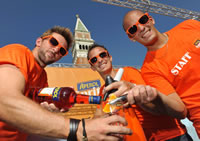 Photo: The World's Largest Spritz Celebration. (enlarge photo)

The celebration saw a great participation from all over the country with 52% of people from Italy and 48% from abroad joining in this social celebration.

The Guinness world record for the largest wine flute was filled with 56.25 litres (5.7 gal, 6.9 US gal) of sparkling wine produced by Agrofirm Zolotaia Balka Ltd (Ukraine) in 1st of May Square, Balaklava, Ukraine.

Guinness World Records also recognized the world record for the largest collection of wine and champagne labels; it belongs to Sophia Vaharis (Greece) and consists of 16,349 different labels as of 17 January 2012 in Athens, Greece.

With all attendees dressed in orange T-shirts, they filled up Piazza San Marco and stood in the formation of an Aperol Spritz glass as they took their positions for the 'Largest Spritz Celebration' representing the distinctive colour and spirit of the drink.

Andrea Conzonato, Chief Marketing Officer, Gruppo Campari, said: "We wanted to give people a reason to socialize and celebrate with Aperol Spritz and what better way than setting a new Guinness World Record. We chose Piazza San Marco in order to pay tribute to the birthplace of one the most traditional and popular drinks of the Veneto Region."

According to whatscookingamerica.net: "Spritz is a refreshing drink that is commonly served in the northern part of Italy, especially in Venice, which had influence from the Austrian Empire. Many Venetian towns had their own specific version of this drink.

"The Spritz cocktail is drunk all day in Italy in their caffe shops, ostari, and in bakeries. Because this drink is low in alcohol, it is a great way to start your meal, as it is a digestive drink that whets the appetite.
In the Venice, it is simply called a "spreetz." Making the Aperol Spritz is very easy to make, and it is also worth experiments with to determine proportions that suit your taste."

"Aperol Spritz is one of the lightest cocktails in the world having only 7 to 8% alcohol by volume."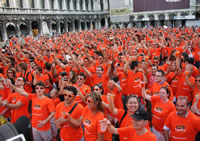 (enlarge photo)

Aperol Spritz! Happy Record! saw hundreds of people enjoying the day with their friends just as the ultimate social drink, Aperol Spritz, should be enjoyed.

The sparkling refreshing flavour, the low alcohol content and bright orange colour, make it the perfect drink that evokes the Italian lifestyle, from the aperitif hour to an evening in the piazza (square).

Related world records:
Largest smoothie: Chichester students sets world record

Most varieties of gin commercially available: The Feathers Hotel sets world record (PICS)

Oldest Bartender: Angie MacLean sets world record (PICS and Video)

Largest toast in one venue: Welch's and Red Sox Nation set world record (Videos)

First Self-Chilling Beverage: West Coast Chill sets world record (Video)

Largest margarita: Margaritaville Las Vegas (Video)

Most pubs visited in 24 hours by a team: 'Thirsty 13'

Most people cocktail flairing simultaneously: T.G.I. Friday's UK (Video)

Longest Ice Bar: Crystal Creations and Wicked Audio (Video)

Most cocktails made in an hour: Sheldon Wiley

Most Cocktails Made in an Hour (Team): United States Bartenders' Guild

Largest Pink Margarita: Ricardo's Mexican Restaurant

Largest smoothie: Dairy Farmers of Canada

Largest bottle of grappa: Distilleria Bottega

Most Exclusive Mint Julep Cup: Woodford Reserve
Largest Punch Bowl: Courvoisier and Bompass & Parr

Most bottles opened in one minute: Adam Dolman

Tuesday, July 3, 2012 10:21 AM