Tuesday, March 12, 2013

Dr. Bruce McMahan Receives "2012 Benefactor of the Year" Award

MIAMI, FL, USA -- Financier, philanthropist, and brainchild of the Maxximus LNG 2000, Dr. D. Bruce McMahan first made the record books with his Maxximus G-Force supercar in late 2008.

At a time when oil prices were soaring, Dr. McMahan conceived a strategy of utilizing America's highly abundant yet untapped fossil fuel, natural gas.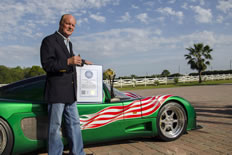 Photo: Dr. D. Bruce McMahan

Photo credit:
PR/WRA
(enlarge photo)


"When it comes to automobile performance, natural gas should be at the forefront of people's thinking. By using both LNG and LPG instead of gasoline, I have proven that alternative fuels aren't equal, but the superior fuel.

The Maxximus G-Force set multiple World records, including 0-60mph at an impressive 2.134 seconds which was broken 13 months later at a flat 2.0 seconds on gasoline.

"We have this fuel in abundance throughout the United States. We should focus on developing the infrastructure, create jobs, and decrease our dependence on foreign fuel sources," Dr. Bruce McMahan says.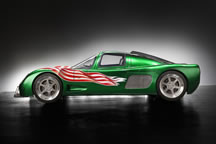 Photo: The World's Fastest LNG powered supercar: Maxximus LNG 2000.
(enlarge photo)


Centaur Performance Group, the incubator group that researched and brought these technological monster advancements in the green automotive sector, unveiled the Maxximus LNG 2000 in 2011 at the Wynn Hotel in Las Vegas, NV.

Director Jeff McMahan states "The multiple records which the Maxximus LNG 2000 holds reflects years of hard work and effort. Without my father's vision and leadership, none of this would have been attainable. Congratulations on an award well deserved."

Dr. McMahan takes great pride in his accomplishments with the Maxximus LNG 2000. America should reduce its dependency on foreign energy while stimulating America's economy by focusing on our own untapped resources.
If the Maxximus LNG 2000 assists in this process, then he has fulfilled his personal responsibility.

The WRA's Award Certificate states: "An innovator in Alternative Fossil Fuels, his Maxximus LNG 2000 project set numerous records running Liquefied Natural Gas and created the benchmark utilizing Propane.

"To an outstanding businessman and community leader.

"The WRA Benefactor Award embodies the ideals of visionary, philanthropy, leadership, and volunteerism in the service of community. The donors are chosen for their dedication, commitment and pride."

Related world records:
Fastest LNG powered supercar: Maxximus LNG 2000 sets new world records (VIDEO)

Fastest LNG powered supercar: Maxximus LNG 2000 sets world records (VIDEO)