Friday, April 6, 2012

Oldest performing clown: Floyd 'Creeky' Creekmore sets world record (Video)

Billings, Mont., USA--Floyd 'Creeky' Creekmore, 95, has been entertaining people at fairs and rodeos since the age of 10 and has been performing as Creeky the clown since the 1980s - setting the new world record for the Oldest performing clown, according to World Record Academy: www.worldrecordacademy.com/.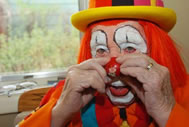 Photo: Floyd "Creeky" Creekmore puts on his nose while getting dressed before a visit with children at a circus in Billings, Mont. AP Photo/Matthew Brown (enlarge photo)

The Guinness world record for the most people wearing red noses is 16,092 at the Credit Union Christmas Pageant in the city centre of Adelaide, Australia.

Guinness World Records also recognized the world record for the Largest collections of clowns, set by Ortrud Kastaun (Germany), who has a collection of 1,610 different clown-related items.

"Right now I feel good enough to clown so I'll just keep it up until I can't!" Creekmore said.

After retiring from a lifetime of ranch work and home building in 1981, he joined the Shriners, a spin-off of the Freemasons that holds circus performances to raise money for the group's hospitals.

He's since been a mainstay of the Shrine circus. A wall in his house is covered with awards from clowning competitions across the country.

The eternally young clown owns about a dozen clown costumes, some of which were sewn by his wife and his niece.
He says his favorite get-up is a yellow and orange costume with matching orange hair and a yellow bowler hat.

Others have laid claim to the title of world's oldest clown, including an 81-year-old member of the Moscow Circus, Oleg "The Sun Clown" Popov, and Andy "Bumbo" Beyer of Santa Ana (Orange County), who was widely publicized as the oldest until his retirement three years ago at the age of 91.

But turns it out that Creekmore had a 20-month advantage all along, clowning away in his low-key style in eastern Montana.

Creeky lives in Billings with his wife of 70 years, Betty. Before retiring from his jobs in the non-clown world, he worked as a rector and then as a construction worker.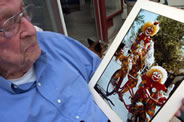 Photo: Floyd Creekmore holds a photo of himself performing in a 1988 parade as "Creeky" the clown, at his home in Billings, Mont. ("Little Creeky" on the front of the bike is a fake.) Creekmore gave up the bike last decade, but at 95, he still clowns and was recently named the oldest performing clown in the world. AP Photo/Matthew Brown. (enlarge photo)

He and his wife have three children, five grandchildren and 11 great-grandchildren.

In Creekmore's family only grandson McCraw has followed in his footsteps. McCraw, 39, started clowning in 1982 at the invitation of his grandfather when he was 10, after his older cousins balked at the offer.

Creekmore and McCraw later would pair up to visit children in Shriners hospitals, the importance of which McCraw said became clear when he had a child with muscular dystrophy.

"Creeky understands that to make a child laugh, to make a child smile, that's what life's about," McCraw said.

But as he reaches the curb where his son will pick him up, Creeky smiles as he reflects on his decades as a clown.

"It's been a real good ride," he says. "I get along alright so I might as well keep it up."

Related world records:
Oldest stockbroker: 106-year-old Irving Kahn sets world record (Video)

Longest tenure as a church pianist and organist: Ida Mae Cumbest sets world record

Oldest working model: Carmen Dell'Orefice (Video)

Oldest serving judge: Judge Wesley Brown (HD Video)

Longest serving Cub Scout den mother: Adele Trapp

Longest serving cricket umpire: Dean Groves

Longest serving scout: Reg Hayes

Longest Career as a Female Radio Presenter: Annie Nightingale

Oldest Meeter-Greeter: Syd Prior

Oldest Practicing Doctor: Dr Walter Watson

Longest serving paper girl: Darlyne Markus

Longest career in the same store: Roy Goggs

Oldest Barber: Anthony Mancinelli

Longest-serving paper boy: Ted Ingram

Longest serving radio DJ: Herb Kent

Highest-time female pilot: Evelyn Bryan Johnson

Most hours spent flying the F-16: Air Force pilot

Longest Serving Chief of Police: Chief Thomas E. Hawley

Longest career as a weather forecaster: Dave Devall

Friday, April 6, 2012 8:52 AM