Tuesday, February 21, 2012

First to climb Mt. Sidley in Antarctica (Female): Crina Coco Popescu sets world record (Video)

Mt. Sidley, Antarctica--Romanian Crina Coco Popescu, 16, climbed Mt. Sidley (4285 m– the highest Volcano in Antarctica) as part of the first mountaineer expedition on this Arctic volcano, (with Russian Alex Abramov, Italian Mario Trimeri and American Scott Woolams) , setting the world record for the First to climb Mt. Sidley in Antarctica (Female), according to World Record Academy: www.worldrecordacademy.com/.


(enlarge photo)

The Guinness world record for the first person to successfully climb the "Seven Summits" - the highest peaks on all seven continents, according to the Messner list, was Patrick Morrow (Canada) who completed the last, Puncak Jaya, Indonesia (Oceania), on 5 August 1986.

Guinness World Records also recognized the world record for the the first woman to climb all 14 of the peaks over 8,000 m (26,246 ft), set by Edurne Pasaban Lizarribar (Spain).

"We knew we were the first team to climb this summit, and we felt this even better when we were searching the best way up", Crina Coco Popescu said when she came back down.

"We searched the ridge, eyes on the altimeter, to catch the highest point. We found two points, measuring approximately the same, and those were the highest.

"On the ridge we were tied by rope, so we would have reached the peak in a specific line. But we've stopped and waited one another so we can step in the same time on the summit, sharing the joy of the premiere", she added.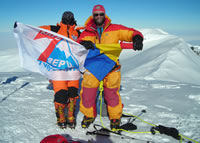 (enlarge photo)

Mount Sidley is the highest point of the Mary Bird Land. It is a large mountain, with a huge caldera, which forms a wall height of 1200 meters.
It is officially recognized as the highest volcano of Antarctica, one of the "Seven Volcanic Summits."

Born in Rasnov, Brasov County (a famous mountainous area in central Romania) Crina Popescu has been doing mountain escalations since the age of 6, alongside her father.

Crina ''Coco'' Popescu was designed athlete of the year by the Romanian Federation of Mountaineering and Climbing.

Related world records:
First woman to ski solo across Antarctica: Felicity Aston sets world record (Video)

Fastest 100-kilometres by kite ski: Helen Skelton sets world record (Video)

First blind person to trek to the South Pole: Alan Lock sets world record

Fastest overland journey to the South Pole: KNGS (Video)

Youngest person to ski to the South Pole: Amelia Hempleman-Adams sets world record (Video)

First person to visit all UN member countries and Antarctica: Yili Liu

Oldest man to climb Mount Kilimanjaro: Richard Byerley sets world record (Video)

Fastest journey to the South Pole: Todd Carmichael

First Woman to Scale 14 Highest Peaks: Oh Eun-Sun

Longest unsupported Arctic journey: Emirates NBD Greenland Quest

Bicycling across Canada: Cornel Dobrin

Fastest team travel to the South Pole: team impossible2Possible

Tuesday, February 21, 2012