Tuesday, October 28, 2014

Most Expensive Punching Bag: Louis Vuitton breaks Guinness World Records' record (VIDEO)

PARIS, France -- As part of a new project celebrating 118 years of the iconic Louis Vuitton monogram, "six creative iconoclasts – the best in their individual fields – who blur the lines between fashion, art, architecture and product design, have been given carte blanche to dictate and make whatever they see fit in the patterned canvas; that includes Karl Lagerfeld designing boxing-themed items for the French fashion house, including this pricey punching trunk that includes a punching bag, stand, boxing gloves and a trunk that can double as a "chic travel closet"; the New York Times Magazine estimated the cost was "about" $175,000, which sets the world record for the Most Expensive Punching Bag, according to the World Record Academy: www.worldrecordacademy.com/.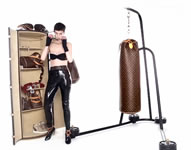 Photo: Lagerfeld's boxing designs are part of Louis Vuitton's "Celebrating Monogram" project, in which high-profile designers create high-price items, such as Christian Loubotin's $23,000 shopping trolley and Frank Gehry's $4,400 "Twisted Box." The centerpiece of his lineup is a serious, full-size punching bag (above) complete with a storage trunk, a stand, a mat, and boxing gloves that retails for approximately $175,000. Produced in a limited quantity, the luxe set is touted as an exceptional collector's piece and is covered in Vuitton's signature logo. Photos: celebrating.monogram.lv (enlarge photo)

The Guinness World Records' record for the largest punch bag measures 6.97 m (22 ft 10 in) tall and 98 cm (3 ft 2 in) wide. The foam filled bag weighs 800 kg (1,763.7 lbs) and was made by Helio Dipp Jr. and Cintia Schmitt (both Brazil). It was presented and measured in Porto Alegre, Brazil, on 28 March 2009.

Guinness World Records also recognized the world record for the most expensive box of cherries; it was sold for $35,000 Australian dollars ($31,771 USD, £20,056), by Sydney Markets, (Australia) in conjunction with Variety the Children's Charity NSW. The box of cherries was bought by Nick Moraitis, (Australia) on 24 October 2007.

The description on the Louis Vuitton website begins, "Karl Lagerfeld possesses an unerring knack for capturing the air du temps and distilling it into objects of desire."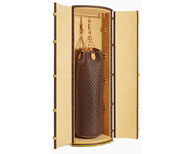 (enlarge photo)
This limited edition of 25, which comes with boxing gloves, a monogrammed mat and its own embossed luggage (for those who want to take their workout on the road), is part of a series of six collaborations Vuitton has undertaken with artistic luminaries such as Cindy Sherman, Frank Gehry and Rei Kawakubo.

Lagerfeld's boxing designs are part of Louis Vuitton's "Celebrating Monogram" project, in which high-profile designers create high-price items, such as Christian Loubotin's $23,000 shopping trolley and Frank Gehry's $4,400 "Twisted Box."

Related world records:
Most Expensive world records

Fashion world records

Sports world records