Wednesday, April 24, 2013

Most people looking through a telescope: Mexico breaks Guinness world record (VIDEO)

MEXICO CITY, Mexico -- 2,978 Mexicans from Mexico City and 40 other locations across the country have broken the Guinness world record for the number of people simultaneously looking through telescopes at the same location, setting the new world record for the most people simultaneously looking through telescopes at the same location, according to the World Record Academy: www.worldrecordacademy.com/.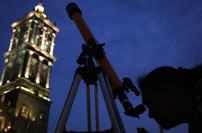 Photo: A Mexican youth at the Puebla cathedral takes part over the weekend in a successful attempt to break a Guinness world record by pointing 2,978 telescopes at the Moon simultaneously. Photo: EFE (enlarge photo)

The Guinness world record for the Most expensive telescope was set by The Hubble Space Telescope (HST), launched on 25 April 1990, which cost $2.1-billion.

Guinness World Records also recognized the world record for the Most powerful X-ray telescope, set by The Chandra X-Ray Telescope, launched in July 1999, which has resolving power equivalent to the ability to read a stop sign at a distance of twelve miles.

The Guinness world record record of telescopes pointed at the same location at the same time was set in 2011, when 2,753 people took part.

The greatest number of telescopes - 316 - were set up at the cathedral in the central Mexican state of Puebla, and all focused on the Moon at the same time, the National Institute of Astrophysics, Optics and Electronics, or INAOE, researcher Raul Mujica said.

'The idea of going for this world record is to encourage people who have telescopes to take them outside, out of cupboards and the closet, and use them. A telescope is an instrument which can be used for a long time, to gain a magnificent view of the sky, for many decades. Families can learn a lot with a telescope,' Jose Franco Lopez, president of Mexico's National Academy of Sciences, told Reuters.
The enterprise was carried out as part of the celebrations for the International Year of Water Cooperation declared by the United Nations General Assembly for the year 2013.

Related world records:
Most People Popping Bubble Wrap: NJ students break Guinness world record (VIDEO)

Most people inside soap bubble: Fan Yang breaks world record

Most people contributing to the same manuscript: Orange Romania sets world record

Most people carrying bottles on their heads: Ohio schools set world record (PICS & VIDEO)

Largest torch-lit parade: Indonesia sets world record (Video)

Most people to write a story: Ireland students (Video)

Most People Dyeing Eggs: Carowinds (Video)

Most People Sanitizing Hands: Philadelphia Union fans