Saturday, January 29, 2011
Largest Golf Lesson: Mayakoba Golf Classic sets world record
PLAYA DEL CARMEN, Mèxico -- The Mayakoba Golf Classic tournament hosted 1,073 people at the practice facility of El Camaleón Golf Club - setting the new world record fo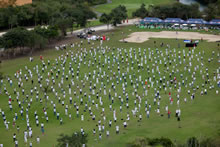 r the Largest Golf Lesson.
Photo: Golf PARa Todos broke the Guinness World Record™ for the the largest golf lesson. Photo by: Michael O'Bryon (enlarge photo)

The previous Guinness world record for the Largest Golf Lesson was 1,032 people at Pine Valley, Beijing, China.

According to Guinness World Records, the largest one day golf tournament consisted of 1,562 participants and was achieved by the 2nd Entrepreneurs Cross-strait & Shenzhen Taiwan Merchant Association 20th Anniversary Golf Tournament (China).

Guinness World Records also recognized the largest golf: Mission Hills Golf Club, China, with twelve 18 hole courses fully operational.

"This was one of the most incredible things I have participated in my career, said PGA TOUR player Esteban Toledo, who conducted the clinic.

"I have given golf clinics before maybe 400 people. But never in front of over a thousand people. At one point, I was a little bit nervous because I wanted to make sure we broke the Guiness World Record but also learned something as well."

Golf FORE Everyone aims to create a fun-filled, diverse and educational program that teaches about the game of golf and its ideals.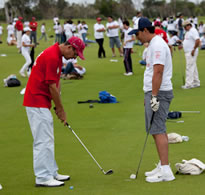 (enlarge photo)

The program encourages active participation in the game as a participant and as a fan, and facilitates the integration of golf into the lives of all those within the community.

In its first four years, the Mayakoba Golf Classic has donated nearly $1 million USD in an effort to give back to the community through various community support groups and promote the game of golf within the Cancun and Riviera Maya regions

Subscribe to our free RSS News feed to receive updates.

Related world records:
Most rounds of golf played in a year: Richard Lewis

Most Golf Balls Hit in 12 Hours - Nigel Mangan

Largest golf tee: Bay College CAD team

Most golf holes played in a week - Tom Bucci

Oldest Golf Course: Musselburgh Links

Youngest Golfer to Score a Hole-in-One: Eleanor Gamble

Most Birdies in 12 Hours: Alexander Sandeman

Youngest person to win a Japanese Golf male tournament - Ryo Ishikawa

Saturday, January 29, 2011