Wednesday, October 19, 2011

Longest Fruit Snack: Sun Rype sets world record (HD Video)

KELOWNA, BC, Canada -- With the help of the local community and KidSport Kelowna, a 300 foot, fully edible, 100% fruit snack made by Sun Rype was un-rolled across the length of a football field , setting the world record for the Longest fruit snack, according to World Record Academy (www.worldrecordacademy.com).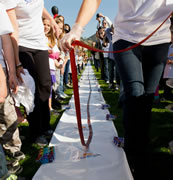 Photo: Volunteers lay out the world's fruit snack. All Photos: Contributed - Sun Rype
(enlarge photo)

The Guinness world record for the largest fruit salad weighing 4.02 tonnes (8,866 lb) was made by La Florida and was displayed in the Main Square, La Merced, Chanchamayo, Peru.

Guinness World Records also recognized the world record for the largest fruit mosaic, which consisted of 372,525 fruits, measured 2,220 m (23,895.79 ft) and was created for the Fourth Navel Orange Tourism Festival of Pingyuan County in Guangdong Province, China.

In addition to acquiring a World Record, Sun-Rype also helped raised over $4,000 for KidSport Canada.

"At Sun-Rype we've always been committed to providing wholesome, 100% fruit snacks and juices that make it easier for today's families to fit healthy eating into their busy lives. Sometimes you need to do things in a big way to make a big statement.

"We created this fantastic fundraising event to introduce our latest Fruit to Go "groovy strip" fruit snack while raising awareness for KidSport Canada." says Cam Johnston, VP Marketing & Sales at Sun-Rype.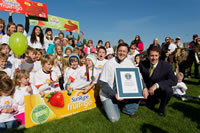 Photo: Sun-Rype CEO Dave McAnerney accepts Guinness world record for the longest fruit snack with its 300-foot long Fruit to Go, amongst enthusiastic participants from the local community on October 16, 2011, in Kelowna, BC. (enlarge photo)

"KidSport Kelowna is extremely grateful to Sun-Rype for their efforts to raise both awareness and much-needed funds for our organization. The requests for assistance from families in financial need continues to grow and this generous donation will help us get hundreds of kids off the sidelines and onto our local fields, courts and rinks," says Laura Wickware from KidSport Kelowna.

Over 500 people from the local community attended the event which included the Guinness World Record setting as well as fun activities and free Sun-Rype fruit snacks and juice for everyone.

The record will be featured in the WRA World Records 2013 book, which will be released in the fall of 2012.

Sun-Rype Products Ltd., based in Kelowna, BC, is a manufacturer and marketer of fruit-based juices and snacks.

Related world records:
Largest cheese platter: World Cheese Awards

Largest dumpling: Baoding Chefs

Longest taco - world record set by Mexico City

Largest cheese fondue - Fond du Lac

Largest plate of nachos - Northstar Church

Largest Rice Krispies treat - The Community Center of La Cañada Flintridge

Largest hummus dish - Israeli chefs sets world record

Largest Kebbe Dish - Maydan Institute

Largest prawn cocktail - SAGB

Largest popcorn ball - Noble Popcorn Factory

Largest ceviche - Peruvian chefs

Wednesday, October 19, 2011